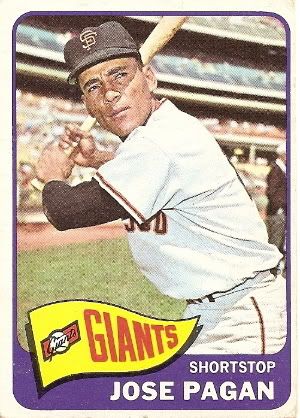 I'm here to assuage your fears. This man's name is
Jose Pagan
, pronounced ho-ZAY puh-GAHN. So chances are good that he is not some sort of godless heathen. However, there is something troubling about his photo. Just who is that suit-wearing white man who lurks behind Jose? Is it Giants owner Horace Stoneham? National League President Warren Giles? Famed news anchor Walter Cronkite? U.S. President Lyndon B. Johnson? The mind boggles at the possibilities.
Fun facts about Jose Pagan:
-A 5'9" Puerto Rican, Jose signed with the New York Giants at age 20 in 1955.
-Showed incremental improvement in the minors, culminating with a .312 average and 19 home runs at AAA Phoenix in 1959. The Giants called him up that August.
-1962, his second year as a regular, was the best of his career. Played all 164 games at shortstop, led N.L. shortstop in fielding (.973), and had 25 doubles and 57 RBI. In the World Series loss to the Yankees, Pagan led the Giants with a .368 average and homered in Game 5 against Ralph Terry.
-Traded to the Pirates in 1965 for fellow infielder Dick Schofield. Jose would play seven years for Pittsburgh in a utility and pinch hitting role.
-In 1969, hit a career-high nine home runs in 274 at-bats. Also recorded 19 pinch-hits, one shy of the record.
-Made it back to the World Series in 1971, at age 36. His eighth-inning double scored Willie Stargell with the winning run in Game Seven.
-Signed with the Phillies in 1973 and mentored young players like Willie Montanez and Mike Schmidt.
-Retired after 1973 season after 15 years in the majors as a .250 career hitter.
-Served as a Pirates coach from 1974-1978.
-Won championships as the manager of three different Puerto Rican League clubs (Bayamon Cowboys, Arecibo Wolves, and Ponce Lions).