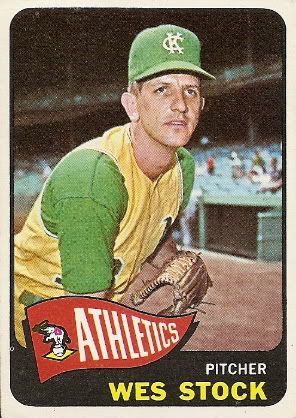 Fun facts about Wes Stock:
-Wes was born in Longview, WA and attended Washington State University before signing with the Orioles in 1956.
-In his first pro season, he led the class-C Northern League with a .700 winning percentage (14-6) and 182 strikeouts in 181 innings. He proceeded to miss the next two years in military service.
-Split the 1959 and 1960 seasons between AAA and the majors, and was effective in 37 innings in the bigs (2-2, 3 saves, 3.06 ERA).
-Had only one major league start in 321 career appearances; he shut out the Senators for five innings but received a no-decision as the Birds
lost 1-0
.
-Twice had a perfect record, going 5-0 for the O's in 1961 (3.01 ERA) and 7-0 for them in 1963. In all, he appeared in 100 straight games between losses in that span.
-Picked up wins in
both
ends
of a doubleheader on May 26, 1963 with five total scoreless innings.
-Never surrendered more hits than innings pitched in a full season.
-Career-best season was 1964, in which he went 8-3 with a 2.30 ERA, five saves, and 115 strikeouts in 113 and two-thirds innings for the Orioles and Athletics.
-Retired in 1967 with a 27-13 mark, 22 saves, and 3.60 ERA in parts of nine seasons.
-Became a well-known pitching coach with the Mets organization (1968-1969), as well as in the majors with the A's (1967, 1973-1976, 1984-1986), Brewers (1970-1972), and Mariners (1977-1981). He also spent 1982 and 1983 as a TV announcer for Seattle's games.