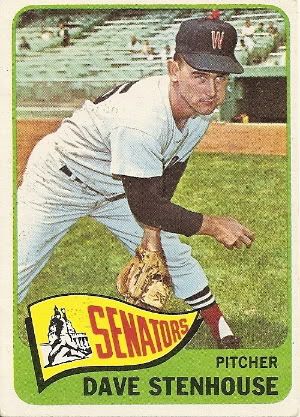 Remember the uproar in certain segments of society when
Ken Griffey, Jr.
burst onto the scene with his hat turned backwards? Tell me that his style was any worse than that of
Dave Stenhouse
, who seems to have grabbed his son's replica Senators hat on his way out the door. Yipes.
Fun facts about Dave Stenhouse:
-A native Rhode Islander, he attended URI before signing with the Cubs in 1955. The only other major leaguer from his alma mater is ex-teammate
Angie Dagres
.
-Steadily climbed through the Chicago farm system for four years, highlighted by a 16-4, 1.92 mark at class C Lafayette in 1956.
-The Reds drafted Dave from the Cubs in 1958 but allowed him to languish in AAA for three years before trading him to Washington after the 1961 season.
-Stenhouse finally made his major league debut with the Senators in 1962 at age 28. He was an All-Star as a rookie, going 11-12 for a 60-101 club while putting up a 3.65 ERA and completing nine of 26 starts. His 7.7 hits per nine innings was fifth-best in the league.
-Three-hit the White Sox for a 1-0 win on
July 17, 1962
, retiring the last ten Chicago batters.
-Injuries curtailed his effectiveness in 1963 and 1964, as he slumped to 5-16 with a 4.68 ERA collectively.
-Wound up back in the minors from 1965-1967, but don't feel too badly for him. He spent much of that time in Hawaii, toiling for Washington's top farm team. He never did make it back to the bigs though, and hung it up at age 33 with a career 4.14 ERA in his 76 MLB games pitched.
-Coached at Brown University between 1981 and 1990.
-His son
Mike Stenhouse
was an outfielder for the Expos, Twins, and Red Sox (1982-1986), hitting .190 in 207 games. Another son, Dave Jr., was a catcher in the Blue Jays organization in the 1980s but was derailed by injuries before reaching the majors.
-As his
Baseball Reference Bullpen entry
helpfully points out, he is not to be confused with pitcher
Don Stanhouse
.