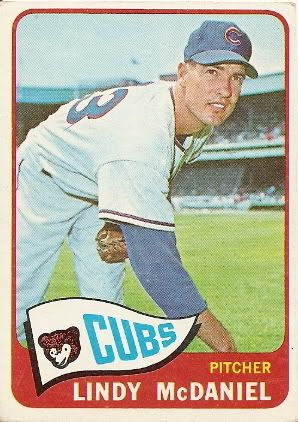 I think we can safely add "Lindy" to the list of names we may never see again in baseball. His birth name was Lyndall, by the way. I was going to make a
Triple Lindy
joke, but regrettably McDaniel never hit a three-bagger in his career. Que sera, sera.
Fun facts about Lindy McDaniel:
-Born in Hollis, OK, Lindy signed as a bonus baby with the Cardinals in 1955.
-His brother
Von McDaniel
was a pitcher and a fellow St. Louis bonus baby; they were teammates in 1957 and 1958. Another brother, Kerry Don McDaniel, was a minor league pitcher for the Cards.
-After appearing in only four games as a 19-year-old rookie, he hit the ground running in 1956, amassing a 3.40 ERA in 39 games (32 as a reliever). The following year he started a career-high 26 games and went 15-9 with a 3.49 ERA and 10 complete games.
-Was the Cardinal bullpen ace by 1960, when he had a career year: 12-4 (including 12-2 in relief), 2.09 ERA, 26 saves (led the N.L. in this category for the second straight year), 0.94 WHIP, and 105 strikeouts against just 24 walks (4.38-to-1). He made his only All-Star team, finished third in Cy Young and fifth in MVP voting, and won the inaugural Sporting News Reliever of the Year Award.
-After a couple of down years, Lindy was traded to the Cubs in a six-player deal. He rebounded with a strong 1963 season: 13-7, 2.86 ERA, and a league-best 22 saves. The effort earned him a second Reliever of the Year Award.
-While pitching for the Yankees in August 1968, he retired 32 consecutive batters over a span of four relief appearances. On
August 23, 1968
, he entered a tied game in the ninth inning and stymied the Tigers for seven perfect innings. After McDaniel was long gone, the game was ruled a tie at the conclusion of the 19th inning!
-Had one of his best seasons at age 34 in 1970, when he went 9-5 with 29 saves, a 2.01 ERA, and a 0.99 WHIP for the Yankees.
-Lindy must have had Detroit's number. On
August 4, 1973
, he entered a game in Tiger Stadium in the second inning and held the home team to six hits and one run in thirteen innings, earning the win.
-Retired after two solid seasons with the Royals. In a 21-year career, he was 141-119 with a 3.45 ERA and 172 saves. He appeared in 987 games, which was second only to
Hoyt Wilhelm
at the the time of his retirement.
-A longtime devoted member of the Church of Christ, McDaniel wrote a monthly newsletter entitled
Pitching for the Master
. It was distributed to his fellow church members and other MLB players and their families.