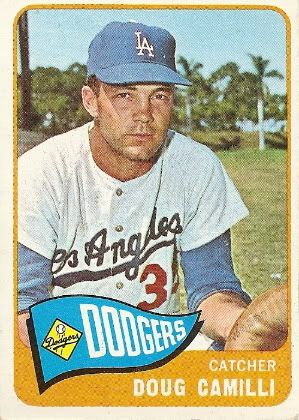 Fun facts about Doug Camilli:
-Doug was born in Philadelphia, PA and attended Stanford University before signing with the Dodgers in 1957.
-Made his major league debut on
September 25, 1960
, and singled off of future Hall of Famer
Juan Marichal
for his first career hit.
-Was a backup for his entire career, peaking at 75 games played and 193 at-bats in 1965.
-His best season was 1962, when he hit .284 with four homers and 22 RBI in 45 games.
-Caught
Sandy Koufax
's third no-hitter, a 3-0 victory over the Phillies on
June 4, 1964
.
-Was sold to the Senators prior to the 1965 season, and hit just .195 in three seasons in Washington before retiring to become the club's bullpen coach. Was activated for a single game in 1969, and went 1-for-3 to leave his batting average tantalizingly short of the Mendoza line at .19947. Hit 18 home runs and drove in 80 over parts of nine seasons.
-Coached for the Red Sox from 1970-1973, and coached and managed in their farm system for two decades after that. From 1985-1988, he compiled a 261-291 record as the skipper at Class A Greensboro and Winter Haven.