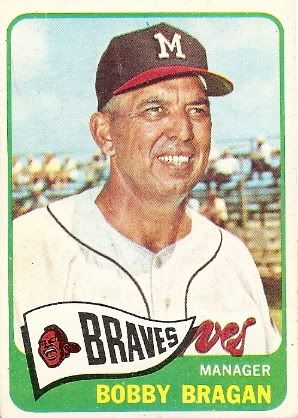 This card gives one of the best looks at the Braves uniform in this entire set. Leaving aside any political correctness, I really think this is one of the more aesthetically pleasing designs in baseball, and I'm glad that Ted Turner came to his senses after fooling around with pinstripes and bright blues and lower-case letters and all of that nonsense in the 1970s.
Fun facts about Bobby Bragan:
-Bobby was born in Birmingham, AL in 1917, and was a weak-hitting shortstop and catcher (not a common combination!) for the Phillies and Dodgers from 1940-1944 and 1947-1948. He hit .240 with 15 home runs and 172 RBI.
-While playing for Brooklyn in 1947, the Southern native was one of several players who signed a position opposing the presence of their new teammate
Jackie Robinson
. However, Bragan quickly relented after getting to know Robinson and witnessing the hardships that the African-American star endured.
-Bobby was a protege of legendary baseball executive
Branch Rickey
, who gave him his first managerial job with the AA Fort Worth Cats in 1948 after removing him from the big league roster to make way for young
Roy Campanella
. The new skipper was an instant success, winning the league championship in his first try and posting a winning record in each of his five seasons. He liked Fort Worth so much that he made his home there, putting down roots that would span six decades.
-In 1953, he jumped to the Hollywood Stars, an unaffiliated club in the Pacific Coast League, and again won the league's crown in his first year there (106 wins, 74 losses). The following season, the Stars became a farm team for Rickey's Pittsburgh Pirates. After winning 192 games at the helm in 1954-1955, Bragan was hired to manage the big league club.
-He lasted only a year and a half in Pittsburgh, winning 102 games and losing 155 (.397) before being replaced in August 1957 by
Danny Murtaugh
. Bobby didn't wait long before catching on as the Indians manager the next year. This time, he was fired only 67 games into his first season with a 31-36 record and a fourth-place standing in the American League.
-Bragan returned to the Dodger organization (and the Pacific Coast League) in 1959 as the field boss for the Spokane Indians. There, he invigorated a struggling
Maury Wills
by instructing the speedy infielder to become a switch hitter.
-After coaching for the Dodgers and Astros in the early 1960s, Bobby received one more shot as a big league manager with the Braves in 1963. His teams posted winning records in each of his three full seasons, but finished no higher than fifth in the National League. Once again, he was dismissed in the middle of a season, bringing his major league managerial career to a close in 1966. His career record was 443-478, a winning percentage of .481.
-He continued his lengthy baseball career by moving into executive positions, including stints as the president of the Texas League (1969-1975) and of the National Association of Professional Baseball Leagues (1975-1978), the latter being the governing body of the entire minor leagues. He held a front office job for the Rangers beginning in 1979, and represented the club well into his eighties. In 1991, he founded the
Bobby Bragan Youth Foundation
, a scholarship fund for teens with collegiate and career aspirations.
-The Fort Worth Cats retired his number 10 in 1994, and a decade later they allowed him to make baseball history. On August 16, 2005, Bobby managed the club for one night only. At 87 years, nine months, and 16 days of age, he broke
Connie Mack
's record as the oldest manager ever in professional baseball. Playing up to his reputation as an adversary of umpires, he got himself ejected from the game in the third inning! (As you may have guessed, he's also the oldest person to ever be tossed from a game.)
-Bragan, a member of the Alabama and Texas Sports Halls of Fame, suffered a fatal heart attack just a few days ago (January 21, 2010). He was 92.