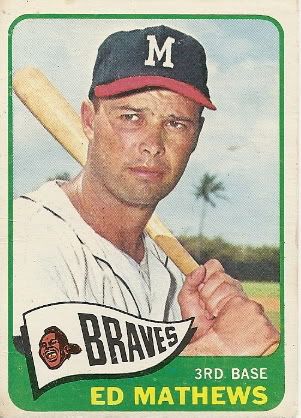 Just in time for spring training, we have a Hall of Famer standing in front of palm trees! But what's this
"Ed" Mathews
business, anyhow? They got it right on the back of the card. Weird stuff.
Fun facts about Eddie Mathews:
-Hailing from Texarkana, TX, Eddie played high school ball in Santa Barbara, CA before signing with the Boston Braves in 1949.
-Debuted with the Braves in 1952, hitting 25 home runs at age 20. Over his career, he would be the only player to represent all three of the franchise's home cities (Boston, Milwaukee, and Atlanta).
-Led the National League with 47 home runs in his sophomore season, the first of nine straight years in which he topped 30 longballs. He also had "slash" stats of .302 AVG/.406 OBP/.627 SLG, and was runner-up to Roy Campanella in MVP voting. (He would add another second-place MVP finish in 1959.) His All-Star selection marked the first of nine years in which he'd receive the honor.
-Was the first athlete on the front cover of
Sports Illustrated
in 1954. In the accompanying article, the great Ty Cobb remarked, "I've only known three or four perfect swings in my time. This lad has one of them."
-Much more than a slugger, Mathews was known for his ability and willingness to take a walk (topping 90 BB nine times) and to slap the ball to the left side of the infield to confound the exaggerated defensive shift that teams employed against him. He was also a capable fielder at third base.
-Though his performances were not extraordinary in the Braves' 1957 and 1958 World Series appearances against the Yankees, he did hit a walkoff two-run homer in Milwaukee's
Game 4 win
in 1957 and made the final putout in their Game 7 triumph that year.
-Though he was overshadowed by teammate Hank Aaron for much of his career, the duo worked well together, hitting 863 home runs (Aaron 442 and Mathews 421) during their time together (1954-1966) to break a record set by Babe Ruth and Lou Gehrig.
-Eddie finished his career with the Astros and Tigers, going out on top with a World Series-winning Detroit team in 1968. He hit .271 in 17 seasons with a .376 on-base percentage, 354 doubles, 512 home runs (he was the seventh player ever to top 500), and 1,453 RBI.
-Mathews returned to Atlanta to manage the Braves from 1972-1974. His record was 149-161, and the club finished fifth in his only full season at the helm. However, he was in the dugout when Aaron hit his 715th career homer to pass Ruth.
-Was elected to the Hall of Fame in 1978, in his fifth year of eligibility, proving that baseball writers may have been even dumber back then than they are now. He died due to complications from pneumonia in 2001 at age 69.