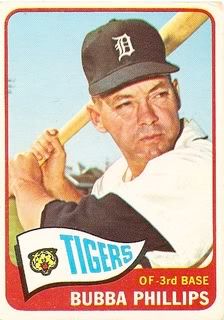 There just haven't been enough Bubbas in MLB history - eight, according to Baseball-Reference. What's worse, the majors have been Bubba-less since Bubba Crosby played his last game with the Yankees in 2006. Simply unacceptable.
Fun facts about Bubba Phillips:
-Born in West Point, MS, Bubba was a Little All-American in baseball and captain of the football team (his position was running back) at Mississippi Southern College, which is now known as the University of Southern Mississippi.
-He began his pro baseball career with the unaffiliated Stroudsburg Poconos before being acquired by the Tigers in 1949.
-He seemed ready for the majors after hitting .291 with 14 homers at AAA Buffalo in 1952, but was delayed by two years of military service. He finally debuted with the Tigers in 1955 at age 27.
-After appearing in 95 games as a rookie, Phillips was traded to the White Sox for pitcher Virgil Trucks. In his first three years in Chicago, he hit .271 in part-time duty.
-Bubba was a contributor to the 1959 American League Champion Pale Hose, hitting .264 with a career-high 27 doubles while starting 86 games at third base and another 17 in the outfield. He appeared in three World Series games, going 3-for-10 with a double.
-A seven-player deal sent him to the Indians for the 1960 season. After a miserable first season with the Tribe (.207 AVG, .249 OBP, .299 SLG), he was rejuvenated in 1961: .264 with 23 doubles and career-highs of 18 homers and 72 RBI. He also swatted the only two grand slams of his career.
-Phillips' power numbers came back down to Earth over the next two years, and he bookended his big league career in 1964 with a 46-game return to Detroit. He caught on with the Milwaukee Braves the following year, but spent the whole season at AAA Atlanta.
-In parts of ten major league seasons, Bubba hit .255 with 62 homers and 356 RBI.
-Despite his relatively low career home run total, Phillips went deep twice in the same game on three occasions!
-He passed away in June 1993 at age 65, and is buried near his home in Mississippi.