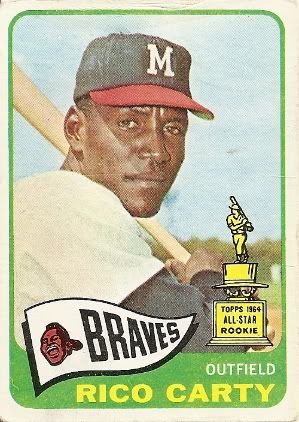 Hey, Rookie Trophy! I wonder what Rico did to earn that. Guess you'll have to read the rest of the post...
Fun facts about Rico Carty:
-Born in San Pedro de Macoris in the Dominican Republic, Rico signed with the Braves in 1959. It's later claimed that the naive youngster was offered contracts by nine or ten different major league teams following his performance at the Pan-Am Games, and signed them all!
-After a two-game cup of coffee in 1963, he became the regular left fielder for Milwaukee the following year. The 24-year-old led the club with a .330 average (Roberto Clemente's .339 was the only better mark in the league) and .554 slugging percentage, drove in 88 runs, and hit 22 homers (third-best on the team, but trailing leader Hank Aaron by just two). Unfortunately, Philadelphia's Dick Allen was just as good as Carty but played thirty more games and won the Rookie of the Year Award going away.
-The Braves used him like a Swiss Army Knife in 1966. He logged 127 games in the outfield but also briefly filled in at first and third base, and even caught 17 games!
-In 1967, Rico batted under .300 for the first time in the majors, tumbling to .255 as he battled tuberculosis. Ultimately, the illness would sideline him for all of 1968.
-He came roaring back in 1969 with a .342 average in 104 games, but that was just the start. 1970 was a career year, as "Beeg Mon" (as he was sometimes called) captured the National League batting crown with a .366 mark and also paced the circuit with an obscene .454 on-base percentage. He also swatted 25 homers and drove in 101 runs, and made his only All-Star appearance.
-On
May 31, 1970
, Rico led a 9-1 rout of the Phillies with a 4-4 performance that included a walk, three home runs, and six runs driven in.
-A knee injury disappointingly cost Carty the entirety of the 1971 season, and he played only 234 games over the following three seasons. During that time he was moved around from Atlanta to Texas to the Cubs to Oakland to Cleveland.
-His career finally restabilized with the Indians, where the relatively new designated hitter position helped him stay on the field. He batted .303 for the Tribe in three-plus seasons, and led them in RBI in 1976 and 1977.
-At the age of 38, he attained a career-high in homers with 31 and drove in 99 runs for the Blue Jays and A's in 1978.
-Rico closed out his career in Toronto in 1979. In parts of 15 seasons he batted .299 with 204 home runs and 890 RBI.