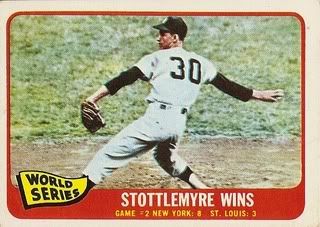 How's that for a headline that's short, sweet, and to the point? Here we get a great view of the #30 jersey that Mel Stottlemyre wore for his entire 11-year career with the Yankees. His son Todd also wore #30 for much of his career with the Blue Jays, Athletics, Cardinals, and Diamondbacks. If you're keeping score, I have six of the seven World Series highlight cards from this set. Go figure, the only one I need features Mickey Mantle.
After the Cardinals outslugged the Yanks 9-5 in Game One of the Series, the 22-year-old Stottlemyre put the brakes on the St. Louis offense at Busch Stadium on
Thursday, October 8, 1964
. The game was a stalemate early, with the Cards breaking out on top with a pair of singles, a sac bunt, and a Curt Flood groundout to bring home Mike Shannon in the home half of the third. The Yankees tied it a half-inning later with back-to-back doubles by Elston Howard and Joe Pepitone, proceeded by a Clete Boyer sacrifice fly. Though the Yankees had put six men on base in four innings, the score was knotted 1-1.
In the sixth and seventh innings, New York gained the upper hand against an unusually sloppy Gibson. Mickey Mantle led off the sixth with a walk, and Gibson plunked Pepitone two batters later. Tom Tresh followed with the go-ahead single. A two-run rally in the seventh started with Phil Linz singling, taking second on a wild pitch, and scoring on a Bobby Richardson hit. Roger Maris singled, and Richardson crossed the dish on a Mantle groundout. It was 4-1 Yankees, and Stottlemyre was cruising. He allowed three singles and a walk through seven innings, but had to bear down in the eighth. St. Louis got a pinch single from Carl Warwick and a pinch double from Bob Skinner, but scored just one run. Mel induced consecutive ground ball outs from Curt Flood and Lou Brock, and followed up a wild pitch and a walk to Bill White by getting Ken Boyer on a fielder's choice grounder. 4-2 Yankees.
In the ninth inning, the Yankees put the game away against the Redbirds bullpen. Phil Linz greeted Barney Schultz with a home run, and Maris hit a one-out single to chase the new pitcher. Gordie Richardson had even less luck, allowing an RBI double to Mantle, then giving a free pass to Elston Howard, a run-scoring single to Pepitone, and a sac fly to Tom Tresh. Suddenly the Yankees had an 8-2 advantage, and Stottlemyre had all the rope he needed to finish what he started. A Dick Groat leadoff triple and an RBI single by Tim McCarver were too little, too late. Shannon hit into a double play and pinch hitter Charlie James struck out, accounting for the 8-3 final. The Series was tied at a game apiece, and young Stottlemyre had a complete game victory (7 H, 3 ER, 2 BB, 4 K) in his postseason debut.