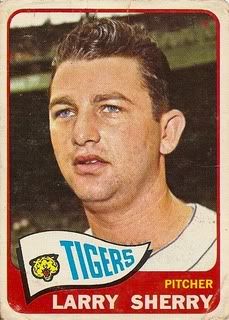 As far as rhyming baseball names go, Larry Sherry is funnier than Don Hahn, but not quite as funny as Greg Legg. Of course, your mileage may vary.
Fun facts about Larry Sherry:
-Larry was born in Los Angeles and signed with the Brooklyn Dodgers out of high school in 1953.
-He began the 1958 season, his sixth in pro ball, on the major league roster but was hit hard in five appearances and demoted. But he continued to tinker with a slider taught to him by his older brother Norm, a catcher in the Dodger organization.
-Sherry returned to the big leagues in July 1959, and became a surprise contributor down the stretch. His overall record that season was 7-2 with a 2.19 ERA and 3 saves. He seemed to improve as the year went along, with his ERA dropping from 3.62 in July to 1.85 in August and all the way down to 1.36 in September.
-Larry truly shined in a relief role in the 1959 World Series. The rookie appeared in four of the six games against the White Sox, earning saves in the first pair of Dodger wins and wins in the other two. He allowed a single earned run in 12.2 innings (0.71 ERA), yielding 8 hits and 2 walks. L.A. jumped out to an early 8-0 lead in
Game Six
, but manager Walter Alston didn't take any chances, yanking Johnny Podres after a fourth-inning homer by Ted Kluszewski narrowed the margin to 8-3. Sherry kept Chicago off of the scoreboard for the rest of the game, clinching the Series for the Dodgers and the MVP honors for himself.
-Big brother Norm joined him as a teammate in Los Angeles for parts of the 1959 through 1962 seasons, making them the first (and to date, only) battery of Jewish brothers in big league annals. On
May 7, 1960
, Norm even hit a walkoff homer against Ruben Gomez of the Phillies to deliver a win for his brother! Another brother, George, was a minor-league pitcher for the Pirates in 1951.
-Despite a middling 3.79 ERA in 1960, he posted a 14-10 record with 7 saves in 57 games (3 starts).
-Larry posted four seasons of double-digit saves in his career, including a career-high 20 with the Tigers in 1966 (third-most in the American League).
-He spent parts of six seasons as a Dodger, another three-plus in Detroit, and also had brief runs in Houston and with the Angels before retiring in 1968. In parts of 11 seasons he was 53-44 with 82 saves and a 3.67 ERA.
-Sherry served as a pitching coach for the Pirates (1977-1978) and Angels (1979-1980). He later became a minor league pitching instructor for the Dodgers.
-He was a golf enthusiast and lived for many years with his wife Sally in Mission Viejo, CA. He passed away at age 71 in 2006 after a long bout with cancer.