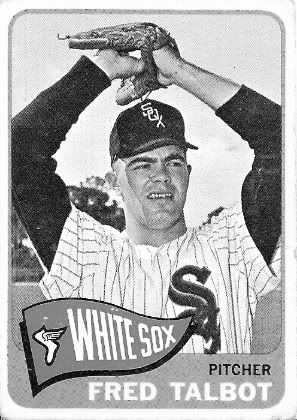 I was mildly surprised when I received this
Fred Talbot
card from Don. I've read Jim Bouton's
Ball Four
cover-to-cover twice, and I always pictured Talbot as being a more hirsute, gruff-looking kind of guy. You know, someone along the lines of
Paul Shuey
or
Sparky Lyle
. It hadn't even occurred to me that mustaches were verboten in baseball until Charlie Finley's 1970s A's. Sometimes your own perceptions run wild, you know?
Fun facts about Fred Talbot:
-Despite being born in Washington, D.C., Fred was fortunate enough not to be signed by the Senators. Instead, the White Sox inked him to his first pro contract in 1958.
-His first major league win was less than impressive. He relieved John Buzhardt in the first game of a
June 7, 1964
doubleheader against the Tigers, allowed a run in one and two-thirds innings, and was the pitcher of record when Pete Ward's single restored the slim lead that he had given away. The Sox later put the game away with four late-inning tallies, but all Hoyt Wilhelm (3 IP, 3 K, 0 ER) got in relief of Talbot was a lousy save.
-His second big-league win came
sixteen days later
and was a bit more impressive. He manuevered his way around ten Boston baserunners to whitewash the Red Sox, 2-0.
-In January 1965, he was sent to Kansas City as part of a three-team trade that sent Rocky Colavito back to Cleveland. It ended up being a lousy trade for the Tribe, as they sent two young players named Tommie Agee and Tommy John to Chicago and got one more All-Star year out of Colavito before his decline.
-Tied with Rollie Sheldon for the A's team lead with 10 wins in 1965. At 59-103, the club was beyond lousy. Hawk Harrelson (66 RBI) was their leading run producer.
-Fred never could catch a break. While his earned run averages were below-average for his time, he wasn't a terrible pitcher (4.12 career ERA), yet he never once had a winning record. The closest he came was 1966, when he went 4-4 with the Athletics and 7-7 with the Yankees to earn a career-high 11 wins.
-Had a small part in an American-League-record-tying 29-inning doubleheader on August 29, 1967. The Red Sox won the first game in the standard nine, beating the host Yankees 2-1. In the bottom of the 20th inning
of the nightcap
, John Kennedy singled with one out and took second when Jim Bouton (more on him later) was hit by a pitch. Talbot pinch-ran for Bouton but was not needed for long; the next batter was Horace Clarke, who singled home Kennedy with the winning run!
-Had the honor of spending three months with ex-Yankee teammate Jim Bouton and the Seattle Pilots, and judging from the text of Bouton's
Ball Four
, could dish it out as well as he took it when it came to clubhouse ribbing. Thought Talbot was the victim of a fake paternity suit and a fake $5,000 prize, he got his revenge in smaller doses. For instance, once he found out that Bouton sent the fake prize telegram, he cut in front of him to take the last spot in an air-conditioned cab back to the hotel, shouting, "Take the next cab, you Communist." Bouton also suspected that Fred was the anonymous ex-teammate who reviewed
Ball Four
by opining that the writing would "gag a maggot".
-Hit two home runs while with the Pilots, doubling his career total. One of those Seattle longballs was a grand slam that won $27,000 for Mr. Donald Dubois of Gladstone, OR courtesy of the Pilots' Home Run for the Money promotion. This laid the groundwork for the aforementioned prank, in which Bouton sent a phony telegram from "Dubois" offering Talbot $5,000 of the prize as a sign of gratitude.
-Left baseball in 1970 with a lifetime record of 38-56 and went into construction. He's been retired since 1996 and lives in Falls Church, VA. I've been there. It's an unremarkable place, but they've got a Long John Silver's. Mmm.