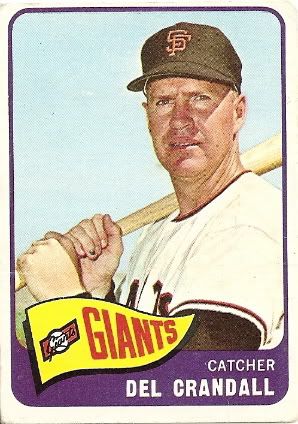 Take a close look at this
Del Crandall
card. Focus on Del's right hand, which is gripping the bat and facing the camera. See that blackened fingernail? That's the joys of being a catcher, folks.
Fun facts about Del Crandall:
-A Californian by birth, Crandall signed with the Braves in 1948 and made his debut with the club the following June at age 19!
-According to Wikipedia, Del was ejected two pitches into his first major league start for arguing balls and strikes with umpire
Jocko Conlan
. Reportedly, Conlan called the young player a "busher" and Crandall told him where he could shove his "busher". It's a great story, but I haven't found corroboration anywhere else.
-After spending 1951-1952 serving in the Korean War, followed the Braves to Milwaukee and earned a reputation as one of the best all-around catchers in the league. Made four consecutive All-Star teams and eight in ten years.
-Hit double-digit home runs every season from 1953-1960, including a career-high 26 in 1955. His 175 home runs placed him fourth all-time among National League catchers at the time of his retirement.
-Won four out of the first five Gold Gloves that were awarded at his position. He led the loop in assists six times and fielding percentage four times, and caught 1,430 games (fourth-most in N.L. history at the time).
-Tied a record by catching three no-hitters in his career; the pitchers were
Jim Wilson
(
June 12, 1954
),
Lew Burdette
(
August 18, 1960
), and
Warren Spahn
(
September 16, 1960
). Incredibly, all three no-no's came at the expense of the Phillies!
-Played in two World Series for the Braves vs. the Yankees (one win, one loss); though he hit .227 in postseason play, he did hit one home run in each Fall Classic.
-Hit four home runs in his final season off of three very good pitchers:
Dave McNally
,
Denny McLain
, and
Johnny Podres
.
-Retired in 1966 with a .254 career average.
-Wore many hats in his post-playing career: coach (Angels - 1977), minor-league manager (1969-1970 and 1978-1983 - Albuquerque Dodgers, 1971-1972 - Evansville Triplets, 1976 - Salinas Angels, 1996-1997 - San Bernardino Stampede), major-league manager (1972-1975 - Brewers, 1983-1984 - Mariners), and radio broadcaster (White Sox - 1985-1988). Whew.