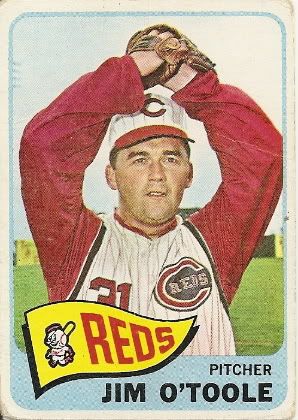 I've never thought that the windbreaker-under-the-jersey look was very flattering, and that goes double for
Jim O'Toole
and his particularly ill-fitting model. Was it a leftover that Ted Kluszewski refused to wear? Ah, the mysteries of the universe.
Fun facts about Jim O'Toole:
-A native Chicagoan, Jim was a Wisconsin Badger before leaving college to sign with the Reds in 1957.
-Went 20-8 with a 2.44 ERA in his first pro experience with AA Nashville to earn a September 1958 call-up to Cincinnati.
-After going 17-20 in his first two full seasons, stunned the National League by going 19-9 with a 3.10 ERA (second-best in the league) and 11 complete games in 1961.
-Pitched well in the 1961 World Series, allowing two runs in each of his two starts, but lost both games to Whitey Ford as the Yankees dispatched the Reds in five games.
-After a 16-13 follow-up season, went 17-14 with a 2.88 ERA in 1963 to earn an All-Star selection.
-Might have had his best season in 1964: 17-7, 2.66 ERA, 145 K against 51 BB.
-Shoulder troubles caused a quick decline. He went 12-20 in just 69 games from 1965-1967, spent 1968 in AAA, and packed it in after being cut from the Pilots spring roster in 1969.
-Was inducted into the Reds Hall of Fame in 1972, having earned all but four of his 98 career victories with the club.
-His brother, Dennis O'Toole, pitched in 15 games for the White Sox between 1969 and 1973.
-Eddie Mathews touched him up for nine home runs in 69 career at-bats against. He also went deep against Robin Roberts and Don Newcombe nine teams each, so O'Toole is in good company!