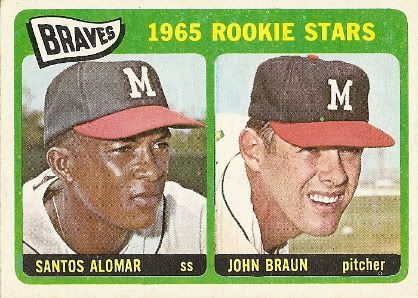 So I go a week in between updates, and my penance is back-to-back two-player rookie cards. That seems fair. This particular card seems to be about the extreme closeup; the photographer is zoomed in so far on Santos Alomar (whom you might know as
Sandy Alomar, Sr.
), we can see the tag on the back of his jersey. Meanwhile, we can practically count the hairs in
John Braun
's sideburn there.
Fun facts about Sandy Alomar:
-Hailing from Salinas, Puerto Rico, was just sixteen when he signed with the Braves in 1960.
-His brothers Rafael, Demetrio, and Antonio all played in the minors.
-Debuted in Milwaukee in 1964, and stroked an RBI single off of
Ray Sadecki
in his first at-bat
.
-Did not stick in the big leagues until 1968, when he was with his fourth team: the White Sox.
-Played in 648 consecutive games between 1969 and 1973, the years in which he was the Angels' starting second baseman.
-Not known for his strength as a hitter, his best year with the bat was 1971: .260 AVG, 24 2B, 4 HR, 42 RBI, 39 SB (he stole 20 or more bases seven times).
-Played every infield position and the outfield corners in his career, but earned kudos for his defensive range and positioning at second base. Led the American League with a .985 fielding percentage at the keystone in 1975.
-A great bit of trivia from Wikipedia: On July 3, 1970, Sandy turned a double play for the final two outs of
Clyde Wright
's no-hit victory against Oakland. The batter was
Felipe Alou
. Alomar, Wright, and Alou all had offspring who became major leaguers. What's more,
Sandy Alomar, Jr.
,
Jaret Wright
, and
Moises Alou
all played in the 1997 World Series. Of course, as an Orioles fan, I will never forget the absence of the
younger Alomar brother
in that particular Fall Classic!
-Among the three Alomars, they totaled 5,128 hits in parts of 52 seasons. Not too shabby.
-Sandy is currently the bench coach for the Mets. He's also coached for the Cubs, Rockies, and Padres, and has managed in both Puerto Rico and stateside in the minors.
Fun facts about John Braun:
-Was born on Boxing Day, 1939 in Madison, WI and signed with the hometown Braves in 1960.
-Won 10 games with a 2.90 ERA in his first professional season, but his best performance came in A-ball in 1963: 7-3 with a 1.43 ERA as a reliever.
-The Braves gave him a look at the end of the 1964 season. In his
only major league appearance
, he pitched two scoreless innings of relief against the Pirates and struck out Roberto Clemente looking.
-He pitched only four games at AA Austin in 1965 before his career apparently ended at age 25.
-Is one of four Brauns in big league history. The others are outfielder-third baseman
Steve
, reliever
Ryan Zachary
, and slugger
Ryan Joseph
. No relation.