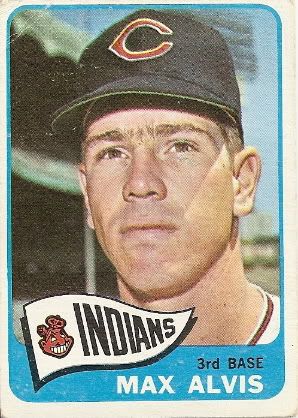 It's funny how random chance works out. For instance, this is the third Indians card I've posted out of the last five total (and one of the others,
Jim Piersall
, spent a chunk of his career in Cleveland). The next card in my queue is a future pitching coach for the Tribe...you'll have to wait for him, though.
Fun facts about Max Alvis:
-Hailing from Jasper, TX, Max was an All-Southwest Conference player at the University of Texas before signing with the Indians in 1958.
-He hit well and with increasing power in a four-year minor league stint, compiling a .308 average and peaking with 25 home runs at AAA Salt Lake City in 1962.
-After a late-season callup in 1962, had a strong rookie season in 1963, hitting .273 with 32 doubles, 22 home runs, and 67 RBI. Was named Indians' Man of the Year.
-Though his average dropped slightly (.252) the next year, he was still produced at a good level (18 HR, 53 RBI in 107 games). However, a bout of spinal meningitis interrupted his season and was thought to have impacted his career thereafter.
-Rebounded to play a full season in 1965, hitting 21 home runs and driving in 61. He was also an All-Star for the first time.
-On
August 15, 1965
, hit a game-tying pinch-hit two-run homer in the ninth inning.
Leon Wagner
's pinch two-run shot in the eleventh gave the Tribe the win over the Twins and allowed the team to tie the major league record with two pinch HRs in one game.
-Following a subsequent down year, he was both an All-Star and Indians Man of the Year for the second time in 1967: .256 with 21 homers and a career-high 70 RBI.
-Steadily declined for three years, ending his career with a .183 average in 62 games for the 1970 Brewers. In parts of nine seasons, Alvis hit .247 with 111 home runs and 373 RBI.
-Max returned to his hometown of Jasper, where he has worked at the First National Bank for more than three decades. He is currently president of that bank.
-In 2001, he was named one of Cleveland's 100 Greatest Players of all time.