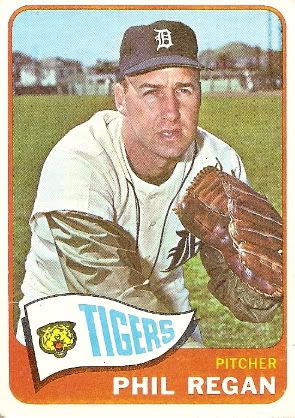 Do you think those are Spring Training dorms behind
Phil Regan
? Maybe it's the coaches' offices and dining hall. In semi-related news, I traveled to Fort Lauderdale with my father in March of 2007 to see a few Orioles' Grapefruit League games. The second of the two games was against the Mets, and we were seated behind home plate and about a dozen rows back. For the first inning or two, Regan himself was seated directly in front of us, holding a conversation with someone I didn't recognize. I didn't want to interrupt, but another fan did come up and ask for his autograph, which he graciously provided. So there's my brush with the former reliever, coach, and manager.
Fun facts about Phil Regan:
-Phil was originally from Otsego, MI, and signed with the hometown Tigers as a teenager in 1956.
-Debuted in Detroit in 1960, and spent parts of six seasons in Motown as a swingman. He won double-digit games three straight years, peaking with a 15-9 record and 3.86 ERA in 1963.
-Was traded to the Dodgers prior to the 1966 season, and immediately made the Tigers look foolish. He was the N.L. Comeback Player of the Year and an All-Star, going 14-1 in relief and leading the circuit with 21 saves. His 1.62 ERA and 0.93 WHIP were pretty nifty, too! He also tossed one and two-thirds scoreless innings in the Dodgers' four-game World Series loss to the Orioles.
-Los Angeles teammate and Hall of Famer
Sandy Koufax
nicknamed him the "Vulture", after his knack for swooping in from the bullpen and picking up wins.
-After "slumping" to six wins, six saves, and a 2.99 ERA the following season, Regan again led the National League in saves with 25 in 1968. He went 12-5 with a 2.27 ERA for the Dodgers and the Cubs, who acquired him in late April in a four-player swap.
-Phil won another dozen games in 1969 and saved 17 more, but his ERA ballooned to 3.70 as the Cubs collapsed down the stretch and ceded the Eastern Divison crown to the Mets.
-Continued to pitch through the 1972 season with the Cubs and White Sox, finishing his 13-year career with a 96-81 record, a 3.84 ERA, and 92 saves.
-Held
Roger Maris
to two singles in 26 at-bats (.077 average).
-Spent nearly a decade after his retirement as head coach at Grand Valley State University, going 176-153. Moved on to coach in professional baseball for the Mariners (1983-1986), Dodgers (1987-1993: minors), Indians (1994, 1999), Cubs (1997-1998), and Mets (2009: minors). He was pitching coach for Team USA in the 2000 Summer Olympics.
-He has also been a manager, most notably with the Orioles in 1995. He was a curious choice by owner Peter Angelos, and seemed overmatched in a 71-73 strike-shortened season. Nonetheless, he was the man who got to write
Cal Ripken, Jr
.'s name on the lineup card for consecutive games 2,130 and 2,131 (the latter of which was fourteen years ago today!). He also managed the AAA Albuquerque Dukes in 1996 and the A-level West Michigan Whitecaps in 2002-2003. He's been a skipper in the Venezuelan Winter League for the past two decades, and won the Caribbean World Series in 1988.