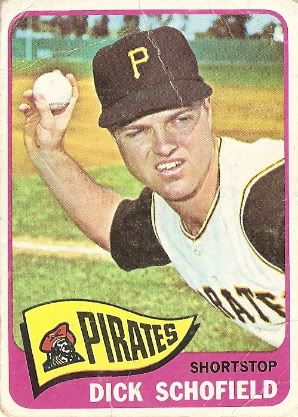 You probably know about
Dick "Ducky" Schofield
's baseball bloodlines (more on that later), but at a glimpse, he bears a strong resemblance to current pitcher
Tom Gorzelanny
, who got his start with the Pirates.
Here's Gorzo
. I'm just throwing that out there.
Fun facts about Dick Schofield:
-Hailing from Springfield, IL, Ducky signed with the Cardinals in 1953 as a bonus baby.
-As if proving both the stupidity of the "bonus baby" rule and his own unpreparedness for the majors at age eighteen, he did not reach the Mendoza line (.200 AVG) until his sixth try at the majors (1958). To be fair, he totaled only 82 plate appearances in 104 games in his first five years.
-Was traded to the Pirates in midseason 1958, and became a valuable utility player for them, logging time at second and third base, shortstop, and the corner outfield spots.
-Had the exact same batting average (.333) in the regular season and the World Series in 1960, though both were small sample sizes.
-Actually started for the Pirates and Giants regularly between 1963 and 1965, and hit above his career norms for the first two seasons (.246 each year) before bottoming out at .207 in 1965.
-Hit only 21 home runs in his career, but that includes three leadoff dingers and one walkoff (the latter coming on
May 22, 1959
against Cincinnati). I was surprised to see that he batted first in the order so much.
-Played for seven teams in his final seven seasons in the league (Pirates, Giants, Yankees, Dodgers, Cardinals, Red Sox, Brewers).
-Played in 1,321 games in parts of 19 seasons, hitting .227 with a .317 on-base percentage.
-His son (also
Dick Schofield
) and grandson (
Jayson Werth
) combine with Ducky to form a three-generation lineage in major league baseball. All three have played for the Dodgers, and Werth currently has 34 homers this season. That's more than his grandpa had in his whole career, and almost three times as many as his uncle had in any single season!
-Daughter Kim Schofield Werth was once an Olympic hopeful in the 100 meter dash and long jump.
-Schofield now lives in his hometown of Springfield, IL with wife Donna. He serves on the
Springfield Metropolitan Exposition and Auditorium Authority
.