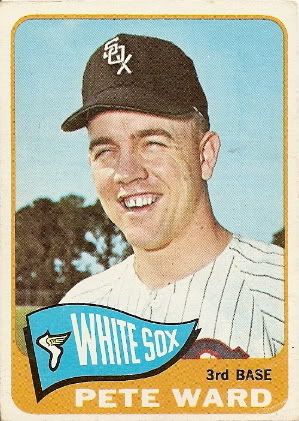 Check out the big, toothy smile on
Pete Ward
! Of course, back-to-back 20-homer seasons would put a pretty wide grin on my face, too.
Fun facts about Pete Ward:
-His father,
Jim Ward
, played in the National Hockey League for 12 years with two Montreal franchises.
-Pete was born in Montreal, and attended college at Lewis & Clark College in Portland, OR. (He would eventually become the first player from that school to play in the majors.) He signed with the Orioles in 1958.
-Hit .321 over five minor league seasons and led the International League with 34 doubles in 1962 to earn a late-season callup with Baltimore.
-After an offseason trade with the White Sox that involved two future Hall of Famers (
Hoyt Wilhelm
to Chicago and
Luis Aparicio
to Baltimore), Pete earned the starting third base job for his new team. He earned a runner-up finish in BBWAA Rookie of the Year voting behind teammate
Gary Peters
, putting up an impressive stat line of .295 with 34 doubles, 22 home runs, and 84 RBI. The Sporting News split with the baseball writers, tabbing Ward as their top rookie. The young infielder also garnered a ninth-place slot in the MVP voting, as the Pale Hose won 94 games.
-Was just as good in 1964, batting .282 with 23 home runs and 94 RBI. Chicago had another near-miss that year, improving to 98 wins but missing the pennant by a single game. Pete improved to sixth in the MVP balloting.
-Tragedy struck in 1965, as Ward injured his neck in a car accident and his productivity suffered. A back injury the following year further curtailed his playing time and production.
-Returned to play in 146 games in 1967, bouncing between first and third base and the corner outfield positions. He hit just .233 but was otherwise valuable, walking enough to draw a .334 on-base percentage and homering 18 times.
-Had a similar season in 1968, batting .216 but walking a career-high 76 times for a .354 OBP. Went deep 15 times, and drove in 50.
-Was reduced to a part-time role over his final two seasons (though he did hit .370 as a pinch hitter in 1969) and finished his career as a .254 hitter in parts of nine seasons. Hit 98 home runs with 427 RBI.
-Spent eight years as a minor league manager for the Yankees, White Sox, and Pirates, compiling a 562-529 record. Pete also was a coach for the Braves in 1978. He is a member of the Oregon Sports Hall of Fame, the Canadian Baseball Hall of Fame, and the Chicagoland Sports Hall of Fame.