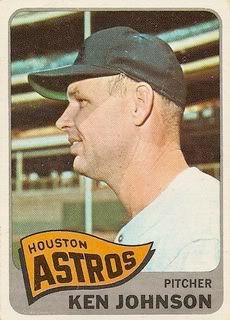 Fun facts about Ken Johnson:
-Born in West Palm Beach, FL, Ken signed with the Athletics as a free agent in 1952.
-Ken won 72 games in the minors and served in the military before finally establishing himself as a major leaguer at age 27 in 1960.
-Though he had cups of coffee with the A's in 1958 and 1959, he spent just the one full season (1960) with his original club, going 5-10 with a 4.26 ERA out of the bullpen.
-He appeared in only one postseason game in his career, Game Five of the 1961 World Series. With six runs already in for the Yankees in the second inning, Ken entered the game with two on and one out. He retired both batters he faced and was lifted for a pinch hitter.
-After a season divided amongst the A's, Reds, and AAA Toronto, Johnson was tabbed by the new Houston club. He became a dependable starter for them, leading the National League in strikeout-to-walk ratio (3.87-to-1) in 1962 despite a 7-16 record and a middling 3.84 ERA.
-In 1963, he had a career-low 2.65 ERA (tenth-best in the N.L.), but was saddled with an 11-17 record.
-On
April 23, 1964
, Ken became the first - and to date, only - pitcher to throw a complete-game, nine-inning no-hitter and lose. The Colts and Reds were locked in a scoreless tie in the top of the ninth when the pitcher flubbed a comeback from Pete Rose, allowing him to reach second base. Chico Ruiz's grounder allowed Rose to take third, and he scored the game's lone run when Nellie Fox botched another grounder at second base with two outs.
-The Braves traded for Johnson in May 1965, and he did his best work in Milwaukee and Atlanta. That first year, he won a career-high 16 games with a 3.42 ERA and nine complete games. He followed up with a 14-8, 3.30, 11 CG effort in 1966. For an encore, he posted a 13-8 record and a 2.74 ERA in 1967.
-As he began to slip in his mid-thirties, he journeyed from Atlanta to the Yankees to the Cubs before closing out his career with an ugly handful of games in Montreal in 1970. In parts of 13 seasons he was 91-106 with a 3.46 ERA.
-Among all pitchers with the last name Johnson, Ken is fifth in career wins behind Walter (417), Randy (303), Syl (112), and Si (101).