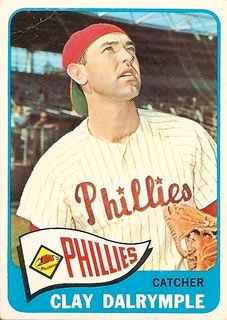 The man featured on this card was born Clayton Errol Dalrymple, which is a Dickensian name if ever I've heard one. Actually, a little crack research tells me it's a Scottish name...at least the Dalrymple part.
Fun facts about Clay Dalrymple:
-Clay was born in Chico, CA and attended that city's Calfornia State University satellite campus. He also boxed in college, winning a heavyweight championship with an 11-1 record in his conference. He is the only CSU Chico product to play in the majors.
-He played for the unaffiliated Sacramento Solons of the Pacific Coast League in 1956 and 1958-1959. He became the property of the Braves prior to the 1959 season and spent that spring learning from veteran catchers Del Crandall and Del Rice.
-The Phillies claimed Dalrymple in the Rule 5 draft and he performed well as a 23-year-old rookie, batting .272 in 82 games in 1960 and tossing out 38% of would-be base stealers.
-His pinch single with two outs in the eighth inning spoiled a potential no-hitter for Juan Marichal in the latter's major league debut on
July 19, 1960
. Incredibly, it was Clay's first career hit against the Giants - he had been 0-for-11 with a walk and three strikeouts prior to that! Six years later, he again stymied a no-hit bid by a future Giants Hall of Famer with an eighth-inning single, leading off the frame with a base knock against Gaylord Perry on
July 22, 1966
.
-Due to his excellent defense, he became Philadelphia's primary catcher in 1961 and held his spot for seven seasons. He twice led the league in caught-stealing percentage (56% in 1961 and 58% in 1967), was a three-time assists leader, and set National League records (since broken) with nine pickoffs in 1961 and 99 consecutive errorless games spanning 1966-1967.
-Had a career year offensively in 1962 with a .276 average, .393 on-base percentage, 11 home runs, and 54 RBI.
-By the late 1960s, Clay had grown weary of the boos of his hometown crowd. Philly honored his request for a trade by sending him to the Orioles prior to the 1969 season. Earl Weaver retained him as a third catcher throughout the team's dominant three-year run of 1969-1971.
-His only postseason experience came in the 1969 World Series, where he was a perfect 2-for-2 as a pinch hitter, including the only hit Nolan Ryan ever allowed in the Fall Classic. (Win a bar bet with that one!)
-After the 1971 season, the O's attempted to send Dalrymple to AAA Rochester. Between the demotion and his wife Celia's struggle with cancer (she would pass away a year later), Clay chose to retire. He hit .233 with a .322 on-base percentage, 55 home runs, and 237 RBI in 12 seasons.
-In his post-baseball life, Clay cared for his three daughters, worked in plumbing wholesale, and later worked in food distribution until retiring in 1998. He also had a two-year stint as a TV analyst for Orioles games until the newly-retired Brooks Robinson replaced him in 1978. Today he lives in Gold Beach, OR with his fifth wife, Teresa. You can read more about his life in
this detailed biography
.