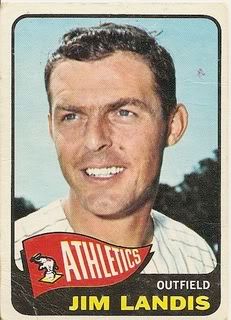 Today on "Guess Whose Uniform Jim Landis Is Wearing", contestant Kevin tries to guess whose uniform Jim Landis is wearing! After all, if he had really been photographed with the A's, he wouldn't be hatless and in pinstripes! So Kevin: can you guess whose uniform Jim Landis is wearing?
Kevin: "Um...White Sox?"
Ding! Correct! Congratulations, Kevin, you win...NOTHING! ABSOLUTELY NOTHING!
Fun facts about Jim Landis:
-Fresno, CA-born Jim signed with the White Sox in 1952 straight out of high school. He received a $2,500 bonus,
which he used to buy a new car - a Mercury
.
-He lost two years of his career to the service of his country in the Korean War, and debuted with Chicago in 1957. He hit only .212 that year with 16 RBI, but flashed enough skill with the glove to entrench himself as the everyday center fielder by season's end.
-Landis improved greatly in his sophomore season, batting .277 and ranking second on the team to Sherm Lollar with 15 homers and 64 RBI.
-Jim received MVP consideration in 1959, when he hit a career-high 26 doubles, reached base at a .370 clip, and stole 20 bases for the pennant-winning Pale Hose. In World Series play, he hit .292 (7-for-24) and led the team with six runs scored. He also made a dazzling catch to rob Jim Gilliam of a hit in Game Three, but ultimately the Dodgers prevailed in six games.
-From 1960-1964, he won five consecutive Gold Gloves for his superlative play in center field.
-His career year came in 1961, as he reached personal peaks in average (.283), home runs (22), and RBI (85). He wouldn't be rewarded for his performance until the following year, when he received his only All-Star nod despite enduring a much less effective season.
-Jim's offense curtailed over the next few seasons, and he was traded to Kansas City early in 1965. He was then passed around like a hot potato, spending a year with the A's, a year with the Indians, and a final season (1967) with the Astros, Tigers, and Red Sox. When the latter two teams both released him in a span of ten days that August, it spelled the end of his career.
-In parts of 11 seasons, Landis hit .247 with a .344 on-base percentage, 93 home runs, 467 RBI, and 139 steals.
-After baseball, he became a quarter-owner and sales rep for a friend's sign company. Jim and his wife Sandy have been married for more than 50 years and currently live in Napa, CA.
-His son Craig was the Giants' first-round draft pick in 1977. He was a minor-league outfielder for six years with the Giants and Braves, and is now a player agent. His clients include White Sox slugger Paul Konerko, Aaron Rowand, Randy Winn, and Jay Payton.