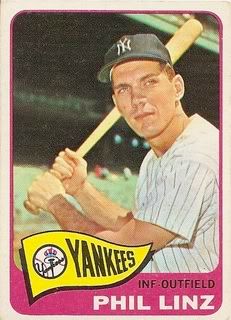 I find it amusing and arbitrary that Topps chose to abbreviate "infield" but not "outfield" on the front of this card.

Fun facts about Phil Linz:
-Phil was born in Baltimore, MD and attended Calvert Hall College High School (confusing name, huh?), which is just a few blocks from my house. The Yankees signed him in 1957 for a $4,000 bonus. The hometown Orioles limited their offer to $2,200 because he had poor vision.
-In each of his final two years in the minors he won batting titles, hitting .321 in the Carolina League in 1960 and .349 in the Texas League in 1961.
-He played 71 games as a rookie in 1962, batting .287 for New York with very little power and few walks.
-After receiving just two at-bats in his first eight major league games (his other six appearances were as a pinch runner), Phil replaced Clete Boyer in the fourth inning of a
May 23
game against Kansas City after the third baseman was hit by a pitch. Linz belted a two-run homer for his first career hit in the seventh inning and added a go-ahead two-run single the following inning. His four RBI were key in a 13-7 Yanks win; they had trailed 7-2 in the seventh.
-In 1963 he played all three outfield positions as well as second and third base and shortstop. He also had three pinch-hit appearances in the World Series, going 1-for-3 as New York fell to the Dodgers.
-Set career highs in 1964 with 368 at-bats in 112 games, rapping 21 doubles.
-He played all seven games of the 1964 World Series and surprisingly hit two ninth-inning solo home runs: a Game Two shot off of Barney Schultz and a Game Seven clout against Bob Gibson. Still, the Cardinals prevailed.
-An anecdote from that pennant-winning season also cemented Phil's place in baseball lore. On August 20, the Yanks were shut out by the White Sox to put them on the wrong end of a four-game sweep. The infielder played a doleful rendition of "Mary Had a Little Lamb" on his harmonica on the back of the bus. Manager Yogi Berra, understandably irritated, told him to stop. Linz didn't hear him and continued playing. Boiling over, Yogi repeated his order, threatening violence if Phil didn't quit playing. Now the player, still unable to make out the request, asked Mickey Mantle what Berra had said. "He said to play it louder," Mickey cracked. Linz complied, and Yogi stormed to the back of the bus, knocking the instrument out of his hands. Though he was fined $250 for his transgression, player and manager smoothed things out quickly. Jim Bouton retold the tale in his 1970 book Ball Four, giving it new life. You can read more about the Harmonica Incident
here
.
-In 1965 his batting average dipped near the Mendoza line, where it would stay for the rest of his career. He spent his last three seasons with the Phillies and Mets and retired with a .235 career mark in seven seasons. He totaled 11 home runs and 96 RBI.
-Since leaving baseball, Linz has owned a nightclub and a few restaurants, and worked as a title insurance representative in New York.