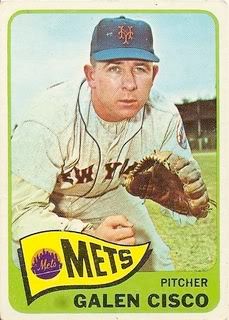 Does "Galen Cisco" sound more like a 1970s funk musician, or an Old West gunfighter? I don't know, but what I can tell you is that he's the only Galen in major league history. Surprisingly, there have been 17 other Galens who played minor league ball.
Fun facts about Galen Cisco:
-Born in St. Marys, OH, Galen attended Ohio State University, where he was an All-American and All-Big Ten fullback for the 1957 National Champion Buckeyes. He was also a team captain. Moonlighting as a pitcher, he won 12 of his 14 collegiate decisions.
-He signed with the Red Sox in 1958 and made his major league debut four years later. He struggled mightily (2-4, 6.71 ERA) in 17 games.
-Cisco continued to take his lumps in 1962, walking more batters than he struck out, and Boston waived him in September as his earned run average was again near seven. The Mets claimed him and he pitched marginally better in a brief audition that month.
-Working out of the rotation and the bullpen, Galen saw action in 51 games in 1963. His 7-15 record was an eyesore, but he was just one of six New York pitchers to lose at least 14 games that year. Besides, his 4.34 ERA and 1.27 strikeout-to-walk ratio qualified as significant improvements.
-It seems counter-intuitive, but his best season was the 1964 campaign, in which he posted a 6-19 record. He was fortunate enough to avoid leading the league in losses (teammate Tracy Stallard dropped 20 decisions), and his 3.62 ERA indicated that he deserved much better. He even notched the first two shutouts of his career.
-In the nightcap of a doubleheader on
May 31, 1964
, the Giants and the host Mets played the longest game (by time) in MLB history, a 23-inning affair that dragged on for 7 hours, 23 minutes. The New York pitching staff was especially taxed, as three pitchers had combined to allow six runs in the first three innings. The Mets rallied for five runs in the sixth and seventh innings to tie the game at six, and the clubs traded zeroes for the next 15 innings! Larry Bearnearth came in for the home team in the eighth and threw seven scoreless frames, despite having pitched the last two innings of the early game. He was replaced in the 15th by Galen Cisco, who had taken a hard loss three days earlier (1 ER in 7 IP). The righthander shut the Giants out for eight innings, but surrendered two runs in his ninth inning of work and was saddled with another heartbreaking loss. The winner was Gaylord Perry, who logged ten scoreless innings one day after blanking the Mets in a two-inning relief stint! in 1984, a 25-inning marathon between the Brewers and White Sox surpassed this incredible game by 43 minutes.
-After another mediocre season as a Met, Cisco spent much of the last five years of his career in the minor leagues, popping up for 11 games with the Red Sox in 1967 and another 15 with the Royals two years later. He finished his career 25-56 with a 4.56 ERA in parts of seven seasons.
-Galen made a name for himself as a major league pitching coach, spending three decades instructing hurlers for the Royals, Expos, Padres, Blue Jays, and Phillies. He was a member of Toronto's coaching staff for their back-to-back World Series wins in 1992 and 1993.
-In 1995, he was inducted into the Ohio State Buckeyes Athletic Hall of Fame.
-For the past 45 years, his hometown of St Marys has presented an annual award in his honor to the most exemplary Little League player.