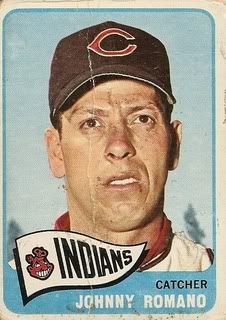 Here's Johnny! Romano, that is, the catcher with a lounge singer name. This card introduces a batch of '65s from partner in crime Ed. I would recommend trading with Ed if you get the chance;
his want list
is up at OBC.
Fun facts about Johnny Romano:
-Johnny was born in Hoboken, NJ. He signed with the White Sox in 1954.
-After clouting 98 home runs in three-plus minor league seasons, he debuted with Chicago in September 1958 at age 24.
-Despite posting an .875 OPS in 53 games as a rookie, Romano was dealt to the Indians in December 1959 as part of a seven-player deal in which the White Sox reacquired 34-year-old Minnie Minoso. The South Siders also gave up a young Norm Cash in the short-sighted deal.
-Tabbed as the primary catcher in Cleveland, he hit .272 with 16 home runs and 52 RBI in 1960.
-1961 was Johnny's breakout year, with 21 home runs and 80 RBI, as well as career highs in doubles (29) and AVG/OBP/SLG (.299/.377/.483). He was an All-Star for the first time.
-He repeated as an All-Star in 1962, and led the Tribe with personal bests of 25 homers and 81 RBI.
-His only two walkoff home runs came in the same week. A two-out, two-run shot off of Kansas City's Diego Segui on
May 16, 1962
erased a 9-8 deficit in the ninth inning.
Five days later
, he again stepped to the plate with two out in the bottom of the ninth. This time, his three-run shot against Baltimore's Billy Hoeft broke a 7-7 tie.
-A broken finger incurred in a home-plate collision cut into his production and playing time in 1963, but he rebounded to have three more effective years as a regular with the Indians and the White Sox. Chicago reacquired him in 1965, and this time Cleveland paid a great price. Romano, Tommie Agee, and Tommy John all went from the Indians to the ChiSox in a three-team deal that saw Rocky Colavito jump from the A's to the Indians.
-He hit two home runs in the same game nine different times over the course of his career.
-He retired after hitting an anemic .121 in 25 games as Tim McCarver's backup with the 1967 Cardinals. In parts of 10 seasons, Johnny hit .255 with a .354 on base percentage, 129 home runs, and 417 RBI.