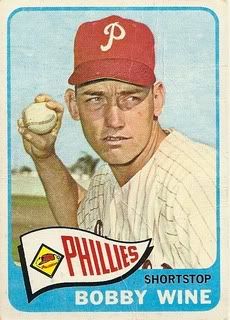 Here we see shortstop Bobby Wine showing off his fastball grip. For all of his success as a hitter, maybe he should've tried pitching.
Fun facts about Bobby Wine:
-A native of New York City, Bobby signed with the Phillies as a teen in 1957.
-He debuted with the Phils in September 1960, days after turning 21. He had spent the season at AAA Buffalo, hitting .269 with 28 doubles.
-Bobby's first full season in the bigs was 1962, when he hit a career-high .244 with 4 home runs and 25 RBI. Impressively, his home runs came against Stan Williams, Don Drysdale, Juan Marichal, and Harvey Haddix.
-He won his only career Gold Glove for his play at shortstop in 1963, but was regarded as a strong-armed infielder.
-Back problems hounded Wine throughout his career, costing him the majority of the 1966 and 1968 seasons.
-He was drafted by the Expos prior to their inaugural 1969 season and spent the next three years as the club's primary shortstop. In 1970, he appeared in 159 games and set a record (since broken) by turning 137 double plays.
-Bobby lost his starting job to Tim Foli in 1972 and collected only 18 plate appearances before Montreal released him at midseason. In parts of 12 seasons, he batted .215 with 30 home runs and 268 RBI.
-He got into coaching, spending several years with the Phillies (1972-1983), Braves (1985, 1988-1990), and Mets (1993-1996). After Eddie Haas' firing in August 1985, Wine served as Atlanta's interim manager. The club finished with a 16-25 record in his brief tenure.
-He still works for the Braves as a major league advance scout and was inducted into the Pennsylvania Sports Hall of Fame in 2007.
-His son Robbie was a catcher who played 23 games for the Astros (1986-1987). He is currently the head baseball coach at Penn State University.