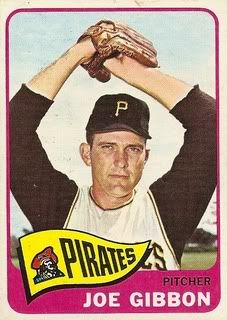 Before we get down to brass tacks, I'd like to apologize to Joe Gibbon. I just looked over the list of upcoming posts on this blog, and Ol' Joe is about to be overshadowed in a big way. Have I tantalized you? Stay tuned!
Fun facts about Joe Gibbon:
-Joe was born in Hickory, MS and attended the University of Mississippi, where the 6'4" youngster was an All-American basketball player. The Pirates signed him in 1957.
-He spent three seasons in the minors, going 16-9 with a 2.60 ERA at AAA Indianapolis in 1959 to earn a spot in the big leagues the following year.
-Gibbon earned wins in each of his first two big league games:
April 17
and
April 23, 1960
. He totaled five scoreless innings of relief in the two contests. Overall he went 4-2 with a 4.03 ERA for the World Champs. He also allowed three runs in three innings of relief in the World Series.
-Starting a career-high 29 games in his sophomore season, Joe went 13-10, one win shy of Bob Friend's team lead. He had a tidy 3.32 ERA and led the Pirates with 3 shutouts. He ranked sixth in the N.L. in ERA and WHIP (1.23), third in shutouts, and tenth in strikeouts (145).
-The southpaw was at his best on
September 26, 1961
, blanking the Dodgers on one hit and three walks and striking out seven. A Bob Aspromonte pinch single to lead off the sixth inning spoiled the no-hit bid, but Gibbon promptly picked off the runner.
-He sported a sub-4.00 ERA in four consecutive seasons, including a hard-luck 1962 in which he had a 5-12 record.
-Joe was traded to the Giants along with Ozzie Virgil for Matty Alou after the 1965 season, and soon became a relief specialist. In 1968 he allowed only 7 earned runs in 40 innings for a 1.58 ERA.
-He totaled 11 saves each in the 1969 and 1971 seasons. He split the former between the Giants and Pirates, pitching to a 1.93 ERA in 35 games after his return to Pittsburgh. The latter season was spent with the Reds.
-Cincinnati and Houston both released Gibbon over the course of the 1972 season, bringing his career to an abrupt halt. In parts of 13 seasons he was 61-65 with a 3.52 ERA and 32 saves.
-His cousin was Don Castle, the Senators' 1st-round draft pick in 1968. Don peaked in 1973, when he hit .325 with 31 doubles and 88 RBI at AAA Spokane to earn a cup of coffee with the Rangers.