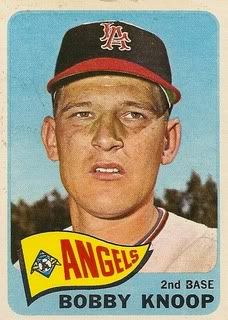 Here are the fruits of a short and sweet trade with MattR of
A Giant Blog
and
Project Baseball 1976
. He sent me Bobby Knoop and #27 Dick Bertell (to be posted tomorrow) as well as a couple of 1967 Topps Orioles that I needed. In return, I cobbled together some various and sundry Giants cards from his want list. Thanks Matt!
I always thought that Bobby Knoop's name was pretty odd. I assumed it was pronounced "Nupe" (rhymes with loop) on account of the double-o. But analysts and announcers seem to pronounce it "Nopp" (rhymes with cop). Oh well.
Fun facts about Bobby Knoop:
-Bobby was born in Sioux City, IA but attended high school in Montebello, CA before signing with the Braves in 1956.
-He was stuck in the minors for eight years before the Angels claimed him in the Rule 5 draft, ensuring him a spot on the major league roster in 1964. Though he batted just .216 with a .289 on-base percentage, 7 home runs, and 38 RBI, he saw action in all 162 games as a 25-year-old rookie.
-Knoop achieved personal bests in 1965 with a .269 average and 24 doubles.
-His most productive season was 1966, when he socked 17 home runs, drove in a team-high 72 runs, and led the American League with 11 triples. He was named to his only All-Star team.
-Bobby was a gifted defensive second baseman, nicknamed "Nureyev" by sportswriters who compared his dexterity and grace to the Russian ballet dancer. He partnered with shortstop Jim Fregosi to give the Angels a successful double-play combo and won three straight Gold Gloves (1966-1968).
-He was traded to the White Sox in May 1969 when his offense began to slip. However, he remained a top defender during his two seasons in Chicago.
-Though he hit just seven home runs in 1969, two came in a
May 30
loss to the Senators.
-Knoop finished his career with the Royals, where he backed up Cookie Rojas in 1971-1972. In parts of 9 big league seasons he batted .236 with 56 home runs and 331 RBI.
-Loved to face: Camilo Pascual (.415/.442/.683 in 43 plate appearances). Hated to face: Steve Barber (.065/.137/.065 in 51 PA).
-He spent nearly a quarter-century coaching for the White Sox, Angels, and Blue Jays. Today he is an assistant coach at Seton Catholic High in Arizona.