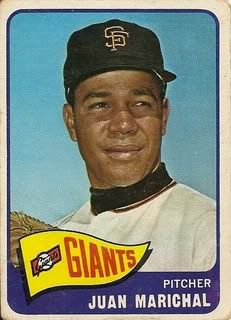 Well lookie here! It's our first solo Hall of Famer since Yaz cropped up a few weeks ago. Juan Marichal is showing off his best yearbook smile.
Fun facts about Juan Marichal:
-Juan was born in Laguna Verde, Monte Cristi in the Dominican Republic. The Giants signed him at age 19 in 1957.
-He made his big league debut in the summer of 1960, earning three consecutive complete game victories to begin his career. This included a 1-hit, 12-strikeout domination of the Phillies in his first game on
July 19
.
-He made the All-Star Game for the first of eight consecutive seasons (and nine total) in 1962, when he went 18-11 with a 3.36 ERA and 18 complete games. Juan baffled hitters with his delivery, which began with a trademark sky-high leg kick. He started
Game Four of the World Series
and shut out the Yankees for four innings before being relieved by Bobby Bolin with a 2-0 lead; the Giants won the game 7-3.
-Marichal truly became an elite pitcher in 1963, when he went 25-8 with a 2.41 ERA, 18 complete games, and a career-high 248 strikeouts. He also
no-hit Houston on June 15
. Despite his league-leading wins total, he lost out to Sandy Koufax in the Cy Young voting, and never would win the award despite two more 25-win seasons. In 1966, Koufax bested him again; in 1968, it was Bob Gibson who had the superlative numbers.
-He gained infamy in a game against the Dodgers on August 22, 1965. After brushing back opposing leadoff hitter Maury Wills twice, the pitcher batted against Sandy Koufax in the bottom of the third inning. L.A. catcher Johnny Roseboro began buzzing his return throws to the mound dangerously close to Marichal's head. The two began arguing, and when Roseboro stood up and removed his mask and helmet to escalate the confrontation, Marichal began clubbing the unprotected catcher in the head with his bat. This touched off a 15-minute bench-clearing brawl. The pitcher was ejected, fined a then-record $1,750, and suspended for nine days. Roseboro, who was escorted to the clubhouse by Willie Mays, required 14 stitches to close a head wound but was able to return to the field a few days later. The victim filed a lawsuit against his attacker, and they eventually settled out of court for $7,000. Years later, the pair reconciled and became good friends.
-He had several standout seasons, but the best may have been 1966: 25-6 (his fourth straight 20-win season), 2.23 ERA, 25 complete games, and league-best numbers in WHIP (0.86), hits per nine innings (6.7), walks per nine (1.1), and strikeout-to-walk ratio (6.17!).
-On
September 21, 1966
, he hit a walkoff home run off of Pittsburgh's Roy Face, breaking a 5-5 tie with one out in the bottom of the ninth. It was one of four career homers for Juan.
-In 1968, he went 26-9, setting a career high and leading the N.L. in wins. He also paced the senior circuit with 30 complete games, 325.2 innings pitched, and a 4.74-to-1 strikeout-to-walk ratio. His 2.41 ERA was nothing to sneeze at either.
-Retired after stints with the Red Sox in 1974 and Dodgers in 1975. In parts of 16 seasons he was 243-142 with a 2.89 ERA, 244 complete games, 52 shutouts, 2,303 strikeouts, and a 1.10 WHIP (18th-lowest all-time). He was the winningest Latin American pitcher in major league history until Dennis Martinez surpassed him in 1998.
-Juan was elected to the Baseball Hall of Fame in 1983. That same year, he began scouting for the Athletics. In 1996, Dominican President Leonel Fernandez named him to the cabinet as Minister of Sports.