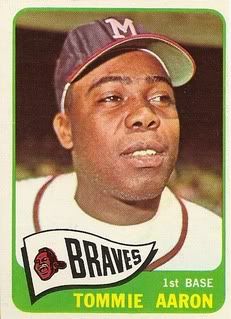 Tommie Aaron (another player who shares my birthday) is the last card in the batch I've been posting from Ed. Thanks again, Ed! Oh, and if you have any doubts about the laziness of Topps in the late 1960s, please note that they
used the exact same photo
for his 1963 and 1969 cards. That's pretty weak sauce.
Fun facts about Tommie Aaron:
-A native of Mobile, AL, Tommie was 18 when he signed with the Braves in 1958.
-You may know his older brother Hank, who hit 755 home runs in the major leagues and was a first-ballot Hall of Famer. We'll get to him later.
-Tommie joined Hank on the big league club in 1962, playing in a career-high 141 games and playing first base and left field. He hit .231 with 20 doubles, 8 home runs, and 38 RBI.
-In a game against the Phillies on
August 4, 1962
, he came to bat in the bottom of the ninth with two outs and the bases loaded. The score was tied 3-3, and he slugged a walkoff grand slam off of Jack Baldschun. One of the baserunners that he drove in was his brother.
-Aaron seems to have been tabbed as a "AAAA" player, spending at least half of each season from 1963-1967 in the minors, and returning to AAA (and eventually AA) from 1971-1973. He made the most of it, though, hitting 147 homers in parts of 12 minor league seasons with a .285 average.
-In 1967, he won the International League MVP with a .309 average, 11 home runs, and 56 RBI. Richmond later named their team MVP award in his honor.
-Tommie returned to the Braves in 1968, serving as a part-time player through the 1971 season. His pinch-hit appearance in Game 2 of the 1969 NLCS made the Aarons the first pair of brothers to team up in a League Championship Series.
-In parts of 7 big league seasons, he batted .229 with 13 home runs and 94 RBI. Naturally, he and Hank hold the record for the most total home runs by a pair of brothers, with 768 between them. Eddie (504) and Rich Murray (4) are the only other duo containing a member of the 500 HR club.
-After his retirement, he managed the AA Savannah Braves (1973-1976) and AAA Richmond Braves (1977-1978). After his 1978 club won the International League championship, he served on the big league team's coaching staff for six seasons under Bobby Cox and Joe Torre.
-Tommie died of leukemia at age 45 in 1984. He was posthumously inducted into the International League Hall of Fame in 2008.