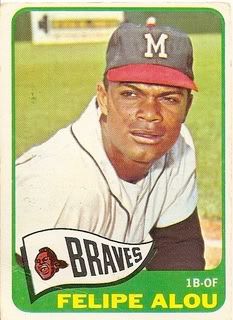 As someone who became a baseball fan in the 1990s when Felipe Alou was the wizened old manager of the Expos, it's hard for me to imagine him as a younger man. Yet here he is.
Fun facts about Felipe Alou:
-Born in Haina, Distrito Nacional, Dominican Republic, Felipe signed with the Giants in 1955.
-He debuted with New York on
June 8, 1958
, singling, doubling, and hitting a sac fly against the Reds. The 23-year-old saw action in 75 games; his playing time would increase in each of the next four seasons as he became the first Dominican to play regularly in the major leagues.
-After batting .289 with 18 home runs in 1961, Alou broke out the next year with a .316 average, 96 runs scored, 30 doubles, 25 home runs, and 98 RBI. He made the All-Star team for the first time, and batted .269 (7-for-26) in the Giants' seven-game World Series loss to the Yankees.
-In 1963, Felipe had the pleasure of playing with brothers Jesus and Matty for San Francisco. On
September 22
, the club fielded the only all-Alou outfield in major league history!
-He was traded to the Braves in 1964, giving him the rare honor of sharing real estate in the outfield with both Willie Mays and Hank Aaron in his career. In 1966, he had a career year: .327 with a league-leading 122 runs and 218 hits, 32 doubles, 31 home runs, and 74 RBI. He was an All-Star for the second time and finished fifth in MVP voting.
-Though 1966 proved to be his last big-power year, Felipe continued to be a skilled contact hitter. In 1968, he led the N.L. once more with 210 hits, batting .317 when the overall league average was .243. He received a third and final All-Star nod.
-He hit seven home runs in his career against the great Sandy Koufax, more than he hit against any other pitcher. The only other batters to homer seven times against Koufax were Hall of Famers Hank Aaron, Frank Robinson, and Ernie Banks.
-Late in his career, he had short stays with the Athletics, Yankees, Expos, and Brewers. At age 36, he batted .289 and drove in 69 runs as New York's regular right fielder.
-After Milwaukee released him in April of 1974, he retired with a .286 batting average in parts of 17 seasons. He hit 206 home runs (including 20 to lead off games) with 852 RBI.
-Alou soon got into managing in the Expos farm system, winning two championships and a Florida State League Manager of the Year award in 12 seasons. His loyalty to the organization paid off when he was named Montreal's manager in May of 1992. He helmed the club for a decade, becoming the winningest manager in Expos history and getting the opportunity to manage son Moises (a career .303 hitter with 332 home runs) and nephew Mel Rojas (126 career saves). He later served as the Giants' skipper (2003-2006), leading the club to an N.L. West title in 2003.