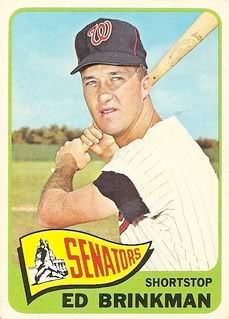 How about that! The first blog post after the Rangers clinch their first trip to the World Series features a player from the Rangers' previous incarnation in Washington.What are the odds? About 1 in 20, I suppose.
Fun facts about Ed Brinkman:
-Ed was born in Cincinnati and attended Western Hills High School with Pete Rose. He hit .460 and won 15 games as a senior and was thought to be a superior player to the future "Charlie Hustle". The Senators signed him and gave him a $75,000 bonus in 1961.
-His younger brother Chuck was a seldom-used catcher for the White Sox and Pirates from 1969-1974.
-Ed got a quick look in 1961 before joining the Senators to stay in June 1962. By the following season, he was the everyday shortstop. He set the tone for his career by playing airtight defense to counteract a weak bat (.228 AVG, .276 OBP), and did manage to tie for the club lead with 20 doubles.
-For his career, he set a record with seven seasons of at least 400 at-bats, fewer than 15 home runs, and a batting average below .230.
-In the 1969 and 1970 seasons, Brinkman received a boost under the tutleage of Washington manager and Hall of Fame outfielder Ted Williams, posting career highs in batting average (.266 and .262, respectively).
-On
May 23, 1970
, he drove in a career-high three runs, with two doubles among his four hits in a 6-5 Senators win over the Tigers. He helped rally the team from a 5-1 sixth-inning deficit and ultimately drove in the winning run with a ninth-inning single.
-After the 1970 season he was traded to the Tigers in the deal that brought Denny McLain to the Sens. His skills at shortstop were finally more widely noticed, thanks in part to a record-setting 72-game errorless streak in 1972. That year he had a .990 fielding percentage (well above the league average of .967 for shortstops) and won his only Gold Glove, and the Tigers captured the A.L. East crown. The local media named him "Tiger of the Year", and he finished ninth in A.L. MVP voting...this despite a .203/.259/.279 batting line!
-1973 brought Ed's lone All-Star nod, though he had a better overall year in 1974. In the latter season he obliterated his previous high in home runs (8) with a total of 14 longballs and also set a personal best with 54 RBI. His first five homers that season came off of an impressive roll of pitchers: Juan Marichal, Jim Kaat (2), Frank Tanana, and Fergie Jenkins!
-In a little less than six months (November 1974-June 1975) he was shipped from Detroit to San Diego to St. Louis to Texas to the Yankees. It foretold the end of his career, as he played just 73 games in 1975 and was released by New York the next spring. In parts of 15 seasons he hit .224 with 60 home runs and 461 RBI.
-Ed stayed in baseball for nearly thirty years following his retirement, coaching at the major league level for the Tigers, Padres, and White Sox and managing in the Detroit farm system, where his Montgomery Rebels won a Southern League championship in 1977. He also scouted for the White Sox until 2000. In September 2008, he died of lung cancer at age 66.