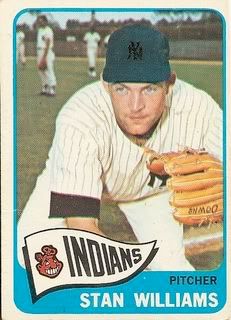 Even by Topps' low standards of obfuscation for players with midseason or off-season team changes, this photo is a gem. You can see where they just filled in the Yankees logo on Stan Williams' hat, and the logo on the left breast of his jersey is partially visible as well, to say nothing of the blurry Yankee teammates in the background. I think the card-back notation about his March 1965 acquisition by the Indians is more excuse than explanation.
Fun facts about Stan Williams:
-A native of Enfield, NH, Stan attended high school in Denver, CO before signing with the Dodgers in 1954.
-Standing at 6'4", weighing 225 pounds, and pitching inside to hitters with an overpowering fastball, he earned the nickname "Big Daddy".
-Debuting with the Dodgers in his fifth pro season, Williams received 21 starts and went 9-7 with a 4.01 ERA. In his first big league start and second overall appearance, he two-hit the Cubs on
June 1
for a 1-0 victory.
-Was an All-Star for the first and only time in 1960, when he was 14-10 and ranked fourth in the N.L. with a 3.00 ERA and 1.13 WHIP. His 175 strikeouts were sixth-best.
-After winning 43 games in a three-year span, Stan was traded to the Yankees in late 1962 for Moose Skowron. He put together a 3.21 ERA in 29 games (21 starts) in his first season in the Bronx.
-His major league career hit a speed bump after the Indians acquired him in early 1965 - he pitched only three games with them that year and none the following year and spent a majority of his time from 1965-1967 at AAA. Rebounded to go 13-11 with a 2.50 ERA and nine saves for Cleveland in 1968.
-The Twins received Williams and Luis Tiant in a trade in the winter of 1970 and moved the former to the bullpen full-time. He had an incredible season, winning 10 of his 11 decisions with a 1.99 ERA and 15 saves.
-Could not replicate his success in 1971 and was traded to the Cardinals in midseason. Pitched only three times for the Red Sox the following year and that was it for his major league career. In parts of 14 seasons he was 109-94 with a 3.48 ERA and 43 saves.
-He pitched in three postseason series (1959 and 1963 World Series, 1970 ALCS) and did not allow a run in four appearances totaling 11 innings. Allowed three hits and three walks and struck out eight.
-After managing the Bristol Red Sox in 1974, he was a big league coach for several years with the Red Sox, White Sox, Yankees, Reds, and Mariners. He later scouted for the Devil Rays and is now an advance scout for the Nationals.