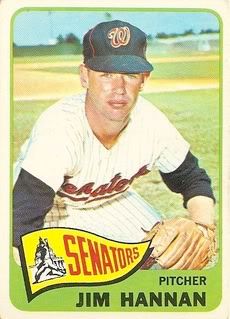 Judging from the photos in this set, the 1964 Senators led the league in ill-fitting caps.
Fun facts about Jim Hannan:
-Jim hailed from Jersey City, NJ and attended the University of Notre Dame before signing with the Red Sox in 1961.
-In his first pro season, he led the New York-Penn League with 254 strikeouts in just 196 innings.
-Claimed by the Senators in the expansion draft, he spent most of the 1962 season in the Washington bullpen. He struggled with his control, walking 49 and striking out only 39 in 68 innings. But he did eke out a 3.31 ERA, lowest among the team's relievers. Did not allow a run in 13 straight games, July 4-August 10.
-Hannan earned his first career win on
June 20, 1962
with three and two-thirds scoreless innings of relief.
-Bounced between the majors and minors in the five seasons following his rookie campaign, putting up a forgettable 4.40 ERA and 1.54 WHIP in the big leagues in that span.
-Working mostly as a starter, he had a solid season in 1968, with a 10-6 record for a Senators team that lost 96 total games. His 3.01 ERA was a career best.
-A brutal hitter even for a pitcher, he struck out in 13 consecutive at bats in 1968 to set an American League record.
-Jim closed out his Sens career with a 16-17 record and a 3.80 ERA in the next two seasons.
-1971 was Jim's swan song, and he split that year between the Tigers and Brewers. In parts of ten seasons, he was 41-48 with a 3.88 ERA.
-He had a mind for business, serving as a player representative and even writing a master's thesis on baseball's pension plan. Players' union pioneer Marvin Miller used this thesis to further his own knowledge of the subject. Hannan returned to Washington after his playing career ended and worked as a stockbroker.