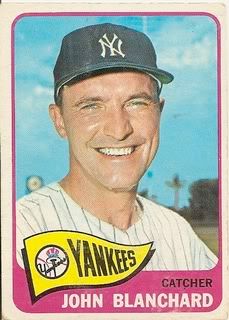 Over the weekend I was watching some of MLB Network's filler programming. They were counting down great World Series moments, and went into detail on the wild Game Seven of the 1960 World Series, which featured several swings in momentum and ended with Bill Mazeroski's walkoff homer. Johnny Blanchard was interviewed for the piece, and even though he went on to win two championships with New York, you could tell that he was still stung by this one that got away. He was 5-for-11 in that series with two runs and two RBI, but was behind the plate when Maz went deep.
Fun facts about Johnny Blanchard:
-Johnny was born in Minneapolis, MN and signed with the Yankees for a $20,000 bonus in 1951 after finishing high school. He was also offered an NBA contract by the hometown Lakers.
-His early career was full of starts and stops. He spent his age 20 and 21 seasons serving in the military, then returned and led the Class A Eastern League with 34 home runs in 1955. He was promoted to New York in September, but played a single game before returning to the minors for another three years.
-Blanchard played sparingly with the Yanks in 1959 and 1960, serving mostly as a pinch hitter. He did not seemed suited to this role, as he batted only .118 (6-for-51, 4 BB) in pinch situations in that span.
-Appearing in 93 games in 1961, Johnny found his batting stroke. He hit .305 with a .382 on-base percentage and .613 slugging percentage, and walloped 21 home runs while driving in 54. His home run total tied for fifth-best on the club, but his ratio of a home run every 11.6 at bats trailed only Mantle and Maris, who were kind of good that year. He even improved his pinch hitting, batting .269 (7-for-26) with four home runs and 12 RBI.
-From July 21-26, 1961, he homered in four consecutive at-bats: a
game-winning pinch grand slam
off of Boston's Mike Fornieles, a
game-tying pinch solo shot
off of Boston's Gene Conley, and
solo home runs in each of his first two at-bats
against Chicago's Ray Herbert.
-He kept the good times rolling in the 1961 World Series, reaching base in half of his twelve plate appearances, homering as a pinch hitter in Game Three, and reaching base five out six trips to the plate (including a two-run homer) in the deciding Game Five.
-Blanchard remained a power bat off of the bench for the following two seasons (13 HR in 1962, 16 in 1963), but could not reach base at the same rate as he had in his career year (.228 AVG, .307 OBP in 1962-1963).
-In 1965, the Yankees stunned Johnny by trading him to the Athletics. Supposedly Mickey Mantle found him crying in the clubhouse and attempted to console him by telling him that he'd have more opportunities to play in Kansas City. As the story goes, Blanchard replied, "Hell, I can't play Mick, that's why I'm crying."
-That season proved to be his last, as he totaled 12 games with the Yanks, 52 with the A's, and 10 more with the Braves. In parts of eight seasons, he had hit .245 with 67 home runs and 200 RBI.
-In his post-baseball life, Johnny successfully overcame alcoholism and moved back home to Minnesota where he worked in real estate and auto sales. He was also a salesman for a producer of heavy-duty cranes and a printing company. He passed away at age 76 from a heart attack in March 2009.