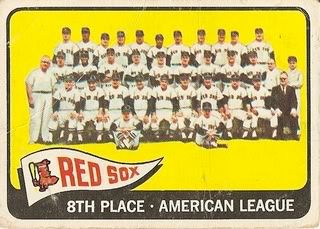 You know what's odd? This team card doesn't match the color scheme of the Red Sox player cards in this set. Those have green borders and yellow names, whereas this has a black border and white text. Someone fell asleep on the job.
The 1964 season was smack dab in the middle of a sustained drought for the Red Sox. They finished eighth out of the ten American League teams with a 72-90 record (27 games behind the Yankees), the sixth consecutive season that they landed in the second division. They would bottom out in ninth place in each of the following two seasons before staging a remarkable turnaround in 1967. The '64 club was managed by former Boston infielder Johnny Pesky, who was relieved of his duties with two games left and replaced by third base coach Billy Herman. The total home attendance for the year was 883,276. Despite drawing less than a million fans to Fenway, the Sox were fifth in the A.L. in attendance.
The BoSox finished fifth in runs scored with 688, a disappointment when you consider their other offensive statistics. They were first in batting average (.258), on-base percentage (.322), and doubles (253), and second in slugging (.416) and home runs (186). Eight players hit at least 13 homers, led by first baseman Dick Stuart (33 HR, 114 RBI) and outfielder/second baseman Felix Mantilla (a career-high 30 HR). Of course, no player other than Stuart even had as many as 70 RBI. 19-year-old Tony Conigliaro (.290 AVG, .883 OPS, 24 HR in 111 games) had a great rookie season in left field and center fielder Carl Yastrzemski (.289 AVG, .374 OBP) was productive despite missing the All-Star Game for the only time in a 17-year stretch of his career. Speaking of the Midsummer Classic, shortstop Eddie Bressoud (.293 AVG, .372, OBP, 41 2B) and third baseman Frank Malzone (.264, 13 HR, 56 RBI in the beginning of a decline phase) made the squad as reserves.
The Red Sox pitching was not a pretty sight in 1964. Second-to-last in ERA (4.50), complete games (21), and hits, walks, and runs allowed (793 R). Pitching in Fenway couldn't have helped, but no one on the staff had a winning record save for All-Star closer Dick Radatz (16-9, 2.29 ERA, 29 SV). Top starter Bill Monbouquette dropped from 20-10 in 1963 to 13-14, despite a negligible change in ERA (up from 3.81 to 4.01). He had five of the team's seven shutouts. Earl Wilson led Boston with 166 strikeouts, but was 11-12 with a 4.49 ERA. Manager Pesky gave Jack Lamabe a career-high 25 starts, and he responded with a disastrous 5.53 ERA...though it was better than his 8.14 mark in 14 relief appearances.
By 1964, Boston's infamous world championship drought had reached 46 years. They hadn't even won an American League pennant in 18 seasons. But after three straight years with 90 or more losses, they almost realized "the Impossible Dream" in 1967, scraping by the Twins and Tigers to capture the A.L. crown with 92 wins and enduring a heartbreaking World Series loss to the Cardinals in seven games. They would also drop seven-game Series to the Reds in 1975 and the Mets in 1986 before snapping their lengthy skid at 86 years with an incredible eight-game winning streak in the 2004 postseason. Now everyone is sick to death of them. ;)