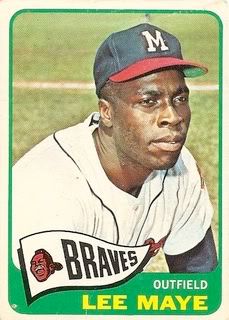 Let's set things straight from the get-go: Lee Maye (who played in MLB from 1959-1971) and Lee May (1965-1982) were two separate people. Their careers overlapped for a few years, which had to be confusing. Fortunately (or unfortunately, depending on your opinion) they were never teammates.
Fun facts about Lee Maye:
-Born in Tuscaloosa AL, Lee attended Jefferson High School in Los Angeles before signing with the Braves in 1954.
-He was a line-drive hitter who compiled gaudy batting averages at every minor league stop, hitting .309 and slugging .522 in parts of nine minor league seasons.
-When the Braves called him up from AAA Louisville in July 1959, the 24-year-old was hitting .339 with 17 homers and 79 RBI in 94 games. He hit safely in five straight games to begin his career, and his average in 51 major league games that year was an even .300.
-After appearing in only 41 games in his sophomore season, Lee hit a career-high 14 home runs in 1961.
-On
April 15, 1963
, he entered a game vs. the Mets as a pinch hitter in the seventh inning and flied out. He remained in the game, replacing starting left fielder Denis Menke. Given another at-bat in the bottom of the ninth, he delivered a walkoff win with a two-out, two-run home run off of Tracy Stallard.
-Maye's best season was 1964, when he led the N.L. with 44 doubles and also reached career highs with 96 runs scored, 74 RBI, and a .304 average.
-He was dealt to the Astros in early 1965 and spent two seasons in Houston. In 1966, he batted .288 and trailed only Sonny Jackson (.292) for the team lead.
-After leaving Houston, Lee spent two and one-half seasons with the Indians, where he played part-time. In 1968, he hit .281 when the league average was only .230.
-Maye also played for the Senators (1969-1970) and White Sox (1970-1971) at the end of his career. Overall, he hit .274 with 94 home runs and 419 RBI in a career that spanned 13 seasons.
-During and after his baseball career, Lee moonlighted as a doo-wop singer, recording on more than a dozen labels with groups billed as the Crowns, "5" Hearts/Rams, the Jayos, and Country Boys and City Girls. He also had several solo albums. His 1964 album "Halfway Out of Love" sold more than a half-million copies. Maye later worked for Amtrak. He died from pancreatic cancer in July 2002 at age 67.