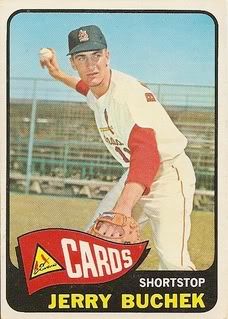 It appears as if Jerry Buchek is situated behind the bleachers in this photo. It seems that the St. Louis veterans played an awful mean trick on Jerry, convincing him that the
real
playing field was "over there".
Fun facts about Jerry Buchek:
-Jerry was a home town boy, having been born in St. Louis, MO and signing with the local major league club in 1959 at age 17.
-The Cards sent him directly to AA Tulsa for his first pro assignment in 1960, and he hit .333 to earn a promotion to AAA Rochester after just 36 games.
-After improving from .226 to .277 and rapping out 53 extra-base hits in his second try at AAA, Buchek earned a couple trials at the big league level in July and September of 1961. The 19-year-old was overmatched, striking out 28 times in 90 at-bats and recording only 12 hits (.133 AVG).
-He earned a roster spot with the Cardinals in 1964 following a few more years of seasoning and hit .200 as a utility infielder. That October he appeared in four of the club's seven World Series games, being inserted as a late-inning defensive replacement and/or pinch runner. In
game six
, he singled off of Jim Bouton in his only career postseason at-bat.
-Jerry's playing time increased each season from 1963 through 1967, culminating in a career year in his initial go-round with the Mets: .236 with 14 home runs and 41 RBI in 124 games.
-He had a flair for the dramatic in that 1967 campaign, hitting four game-tying or go-ahead homers in the eighth inning or later. This total includes
a walkoff solo homer
off of Houston' Claude Raymond to lead off the ninth inning;
a two-out game-tying pinch homer
off of Atlanta's Dick Kelley in the bottom of the ninth (the next four batters all reached and the Mets won on a walkoff walk issued by - who else - Claude Raymond); and...hold on, the last two deserve their own bullet point...
-On
September 22, 1967
, Jerry carried the Mets offense in the second half of a doubleheader vs. the Astros. With New York trailing 4-2 in the bottom of the eighth, his two-out, three-run homer off of Carroll Sembera gave the home team a 5-4 lead. Jack Fisher allowed Houston to tie in the ninth, setting the stage for Buchek to deliver again in the bottom of the tenth. Once again stepping to the plate with two out and two on, he delivered a walkoff three-run home run against Tom Dukes. His two homers and six RBI were both personal bests for a single game.
-He bottomed out in 1968, batting only .182 with a single home run in 73 games. The Mets dealt him back to St. Louis in December and the Phillies acquired him the following April, but he spent all of 1969 at AAA Eugene. It proved to be Jerry's final year as an active player, and he was only 27.
-In parts of seven major league seasons, he hit .220 with 22 home runs and 108 RBI.
-Taking a cue from the old Elias Baseball fact books and 1990s Studio cards:
Loved to face: Mike McCormick (.412, 2 HR, 5 RBI, 4 BB); Juan Marichal (.364)
Hated to face: Don Drysdale (0-for-17, 8 K!); Jim Bunning (.100)