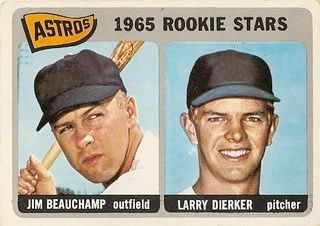 If you're thinking that Larry Dierker looks especially young in this picture, that's probably because he was only 17...that would be 30 years younger than Jamie Moyer is today!
Fun facts about Jim Beauchamp:
-A native of Vinita, OK, Jim signed with the Cardinals in 1958 at age 18.
-He struggled to find his swing in the minors, finally putting things together in 1963. In his fourth stint at AA Tulsa, he won the Texas League MVP award. He batted .337 with 35 doubles, 10 triples, 31 home runs, and 105 RBI. He received a September cup of coffee from St. Louis as well.
-An offseason trade sent him to the Astros. Spending much of the year at AAA Oklahoma City, he walloped 32 doubles and 34 homers. In 23 games with Houston he batted only .164.
-Beauchamp continued to scuffle in limited looks at the majors with the Astros and Braves, and didn't stick in the bigs until he was acquired by the Reds in 1968. The 28-year-old hit .256 in a two-year tenure as a reserve outfielder, first baseman, and pinch hitter with Cincinnati.
-In 1970, Jim had return engagements with both the Astros and Cardinals. The following year he reached career highs of 77 games played and 175 plate appearances with St. Louis and hit .235.
-He finished his career as a Met, batting .254 overall in the 1972-1973 seasons. On
August 21, 1972
, he had his only career two-homer game, driving in all of New York's runs in a 4-2 win over the Astros. His two-run shot off of Jim Ray in the bottom of the ninth broke a tie and sent the Shea Stadium crowd home smiling.
-In parts of 10 seasons, he hit .231 with 14 homers and 90 RBI.
-After hanging up his spikes, Jim spent sixteen years (1975-1990) managing in the minors for the Astros, Reds, Blue Jays, and Braves. He won league championships with the AAA Charleston Charlies in 1977 and the AAA Richmond Braves in 1989.
-He then spent nearly a decade as Bobby Cox's bench coach in Atlanta and later served as the Braves' minor league outfield coordinator.
-On Christmas Day 2007, Beauchamp lost his life to leukemia at age 68. The Braves honored him with a sleeve patch bearing his nickname ("Beach") for the duration of the 2008 season. His high school baseball field in Grove City, OK still bears his name, as it has since 2002.
Fun facts about Larry Dierker:
-Hollywood-born Larry Dierker was a highly coveted prep pitcher out of Taft High School when he signed with Houston in 1964.
-He pitched only nine minor league games before making his MLB debut on his 18th birthday. He was knocked out in the third inning of his only start (after having the thrill of striking out Willie Mays in the first), but ended the year on a high note with six scoreless innings of relief in two October appearances.
-Pitching in 26 games in 1965, Larry went 7-8 with a 3.50 ERA. During his career, his earned run average exceeded 4.00 in only one full season.
-The 22-year-old Dierker had a career year in 1969, posting a 20-13 record with a 2.33 ERA, 1.02 WHIP, 20 complete games, and 232 strikeouts...all career bests. He was selected for the All-Star team.
-A second All-Star nod came in 1971. Though he made only 23 starts that year, he was excellent when he was able to pitch (12-6, 2.72 ERA).
-After several close calls, Larry finally pitched a no-hitter on
July 9, 1976
, striking out eight Expos in a 6-0 win.
-His 13-year tenure with the Astros ended after the 1976 season when the club traded him to the Cardinals. He pitched for St. Louis 11 times, going 2-6 with a 4.58 ERA. He was released the following March, bringing an end to his career at age 31.
-Overall, Larry was 139-123 with a 3.31 ERA and 106 complete games in 329 starts. He is third all-time in wins for the Astros franchise with 137, trailing only Joe Niekro (144) and Roy Oswalt (143). His 25 career shutouts are a club record.
-He returned to Houston in 1978 in a front-office role, and moved to their broadcast booth shortly thereafter. He's had two stints as the Astros color commentator totaling more than 25 years.
-In 1997 he was hired as the Astros' manager, a surprise choice to say the least. Despite his lack of coaching experience, Dierker guided the team to four N.L. Central championships in his five years at the helm. He also survived a medical scare in 1999, when he suffered a grand mal seizure in the dugout during a game. He was diagnosed with dislodged blood vessels in his brain and missed 27 games, but made a full recovery and returned to the team in time to lead them to the postseason. Unfortunately, his Astros never won a playoff series, and he was fired after the 2001 season and replaced by Jimy Williams. Houston held a ceremony to retire Larry's #49 on May 19, 2002.