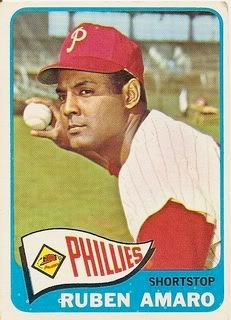 Ruben Amaro's expression seems to say, "If Bunning calls me 'Ruben Sandwich' one more time, I'm pegging him in the mouth with this ball."
Fun facts about Ruben Amaro (Senior):
-Hailing from Nuevo Laredo, Tamaulipas, Mexico, Ruben signed with the Cardinals in 1954.
-His father Santos was a star in the Cuban and Mexican baseball leagues in the 1930s and 1940s, and was also a successful manager. He and Ruben were the first father-son duo to be inducted into the Salon de Fama, the Mexican Hall of Fame.
-He debuted with St. Louis in 1958 and doubled off of Warren Spahn for his first career hit. In 40 games that year he batted .224.
-That offseason he was traded to the Phillies, and soon established himself as a versatile infielder. In 1961, he played in a career-high 135 games and hit .257 with a .351 on-base percentage and nine triples.
-In 1964 he was named the National League's Gold Glove winner at shortstop, and also reached personal bests in batting average (.264), home runs (4), and RBI (34).
-Later in his career, Ruben played with the Yankees and Angels. He retired in 1969 as a .234 hitter, with 8 home runs and 156 RBI in parts of 11 seasons.
-He had a perfect day on
August 13, 1967
, with four hits and two walks in six plate appearances. He doubled twice and drove in two runs as the Yankees outslugged Cleveland 15-11.
-His son Ruben, Jr. was an outfielder for the Angels, Phillies, and Indians in the 1990s and is currently the general manager of the Phillies.
-Ruben, Sr. has stayed active in baseball as a scout, minor league manager (for the Phillies, Tigers, and Cubs), and coach (1980-1981 Phillies, 1983-1986 Cubs), and he managed the Venezuelan Aguilas del Zulia team to the 1984 Caribbean Series title.
-Amaro is currently a board member for the Baseball Assistance Team, a non-profit organization that helps retired professional baseball players who are in need of financial and medical assistance.