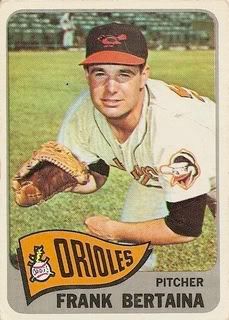 This is one of those photos in this set that is just full of fun quirks: the great 1960s Orioles road uniform, the mysterious background lurker, the positioning of Frank Bertaina's glove (do you think that anyone actually opens their glove up that quickly after delivering a pitch?). I even like that you can see the veins protruding from his pitching hand - the veins on my arms bulge kind of like that. More than you wanted to know, I'm sure.
Fun facts about Frank Bertaina:
-A native San Franciscan, Frank signed with the Orioles at age 17 in 1961.
-He shot through the minors, debuting with the O's in August 1964 in his third pro season. That year he had gone 11-4 with a 1.99 ERA at AA Elmira and struck out 121 hitters in 131 innings.
-The 20-year-old pitched in only six games for the Birds in his first taste of the majors, but he did earn his first career win in memorable fashion. On
September 12, 1964
, the lefty held Kansas City to a single hit, a fifth-inning leadoff double by
Doc Edwards
. He scattered five walks and struck out seven men to blank the A's, 1-0. Incredibly, the Birds managed only one hit themselves, a
John Orsino
double in the bottom of the eighth. Bertaina bunted him to third and
Jackie Brandt
delivered the winning run with a sacrifice fly to make K.C.'s
Bob Meyer
a hard-luck loser. The Orioles actually set a record
that day for the fewest official at-bats in a nine-inning game. Because they were home, they did not bat in the ninth. They had just one hit and one walk, and the walk was erased on a double play. Taking into account three sac bunts and the sac fly, the O's were credited with only 19 at-bats!
-Despite some early success, Bertaina found it difficult to crack a rotation that included Wally Bunker, Milt Pappas, Steve Barber, and Dave McNally (to say nothing of Jim Palmer, who arrived in 1965). All told, he spent parts of five seasons at AAA Rochester, long enough to compile a 44-20 record. In 1965 he led the International League with 188 strikeouts in 181 innings, contributing to his Red Wings-record 501 career K's. He is a member of the Rochester Red Wings Hall of Fame.
-Splitting the 1966 season between Baltimore and Rochester, he won 9 of his 11 minor league starts with a 2.33 ERA and had a 3.13 ERA in 63.1 big league innings. Though the O's won the World Series, he did not pitch in the postseason.
-Frank had a reputation as an eccentric fellow; teammate and fellow pitcher Moe Drabowsky dubbed him "Toys in the Attic".
-In May 1967, the Orioles traded him to Washington. He had his most sustained success that season, going 7-6 with a 2.99 ERA overall and topping all Senators pitchers with four shutouts.
-He struggled in 1968, going 7-13 for the Sens with a 4.66 ERA and leading the American League with 17 wild pitches. Over the following two seasons, he had short stints back in Baltimore and in St. Louis, and he was through as a big leaguer at age 26. In parts of seven seasons he had a 19-29 record and a 3.84 ERA.
-Hall of Famer Mickey Mantle batted just .111 (2-for-18, 3 BB) against Bertaina with a single home run and RBI.
-Frank suffered a fatal heart attack at age 65 last March in Santa Rosa, CA.